Jan 14, 2009 10-Inch LPs, Blue Note, Jazz Vinyl, Jazz Vinyl on eBay, Price Guide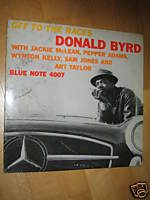 Yet another slow day on eBay today. It's interesting because prices remain high, but the number of listings for high-end collectibles has been slow for at least a week now. Perhaps it's just an aberration. We'll keep watching at Jazz Collector to see how long it lasts and see if there's anything more than coincidence to it. Perhaps it's a rare chance to pick up a bargain or two, based on a few of the items we're watching, such as:
Donald Byrd, Off To The Races, Blue Note 4007. This looks to be an original pressing. The picture shows a West 63rd Street address on the label, but it shows only one side. Also, the seller doesn't actually grade the condition of the record, but, based on his description, it looks to be at least VG+, perhaps better. So maybe this will be a bargain for someone. It is now priced at $33.76.  In the Jazz Collector Price Guide, we've monitored this record at around $125 in this condition and as high as $344 in M- condition. 
We've always like the cover of this next one, with a caveat:
Lester Young and Paul Quinichette, Pres Meets Vice-Pres, Emarcy 26021. This is a 10-inch LP. The caveat I have is that it is quite misleading — Pres and Quinichette don't actually play together. The LP is just a compilation of 78s, with Pres on one side and Quinichette on the other. It would have been great to have a recording of them actually playing together, but I don't think that exists. Anyway, this record is marginal as a collectible. This one seems to be in nice condition and is priced now at $17.
Another potential bargain is: Babs Gonzales, Tales of Manhattan, Jaro JAM 5000. This looks to be an original pressing in VG+ condition, both cover and vinyl. The current price is $10.49. In the Jazz Collector Price Guide, we've seen this sell for anywhere between $75 and $150.
Tags: Babs Gonzales, Donald Byrd, Emarcy, Jaro, Lester Young, Paul Qunichette