Today on eBay, Nov. 20, 2008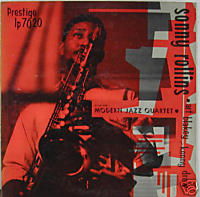 Here are some interesting items closing today on eBay: Most of you have probably noticed this one, since it's a featured listing: Curtis Fuller Volume 3, Blue Note 1583. This is an original pressing. It seems to be in VG+ condition, both record and cover. This one has Sonny Clark on piano and is a pretty nice collectible. The current price is $340. 
If you're desperate for a copy of Eddie Costa, House of Blue Lights, Dot 3206, there's one closing soon on eBay for a Buy-It-Now price of $420. The record is M- and the cover is VG+. 
Euclid Records is back again with some nice items, including this one: Sonny Rollins with the Modern Jazz Quartet, Prestige 7020. This is an original New York pressing with the original orange cover. Careful readers will note that Jazz Collector recently posed the question to our audience on the orange cover versus the yellow cover and one of our readers reminded us that if it's orange it must be original. This one is in near mint condition and is currently priced at $629. 
Here's a nice Norgran with a beautiful cover by David Stone Martin: Lester Young, Norgran 1022. This one is in V+ condition and is priced at $108.
Here's a nice one on Prestige New Jazz: Eric Dolphy, Outward Bound, New Jazz 8236. This is from Atomic Records. It currently has a price of $158, but hasn't reached the seller's reserve yet. 
Now that we're back posting again, we'll return later with a few more items for today, and we'll review what happened with some of the other items we've been watching. Stay tuned.