Today on eBay: Tal, Drew, Kenny Dorham, True Blue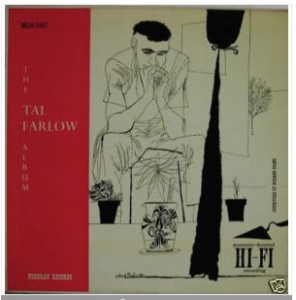 We had a couple of hours to kill last night, so we did something we used to do every day: Scroll through a full 24 hours worth of jazz records listed on eBay. It was good timing, because we found some nice items for our Jazz Collector readers and one item we plan to bid on for ourselves.
Our friends at Euclid Records have a nice batch closing today, including: Kenny Drew Trio, Riverside 224. This is an original white label pressing and is listed in M- condition for both the record and the cover. The current price is $1,256, so, Kenny Drew, welcome again to the $1,000 bin. Also from Euclid is The Tal Farlow Album, Norgran 1047. This is the 12-inch version with the beautiful cover by David Stone Martin. It is in M- condition for both the record and the cover and is currently in the $60 price range. My friend Dan Axelrod, who was Tal's good friend and protege, swears that the 10-inch version of this record offers far better sound quality than the 12-inch version. I suppose that's why he has more than a dozen copies of the 10-inch version. Nonetheless, the 12-inch Tal Farlow Album is quite lovely to listen to and quite collectible and is certainly a worthy addition to any collection.
It always pays to read the eBay listings carefully. Here's an example why:
I've been watching a copy of the LP Kenny Dorham and The Jazz Prophets, ABC Paramount 122. This is listed as an original pressing and it's listed in VG++ condition and the starting price is $100. It's closing in a couple of hours and there are no bidders.  This is a record we've tracked several times in the Jazz Collector Price Guide and it usually sells for more than $300 in this condition. We were even thinking about bidding on the record ourselves, but we were cautious: Surely something must be wrong. There was. Looking closer at the listing, it was clear that, yes, this was an original pressing: But it was an original CANADIAN pressing. Too good to be true? In this case, yes, it was.
Finally, there's always at least one Blue Note worth watching. This one also comes from Euclid Records: Tina Brooks, True Blue, Blue Note 4041. This is an original pressing. The record is VG++ and the cover is VG. The current price is $535.