Tracking a Trio of Blue Notes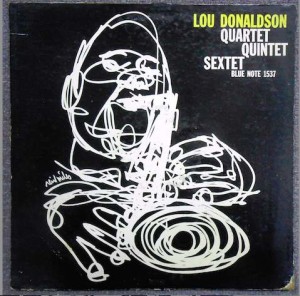 Here's another one from my want list, and this one may even get a snipe: Lou Donaldson, Quartet, Quintet, Sextet, Blue Note 1537. This is an original pressing with the Lexington Avenue address, deep grooves, ears, etc. The record is listed in M- condition and the cover is just fair, with seam splits. The cover condition doesn't bother me so much, but the price may. So far this is at about $250 with more than two days left on the auction. We'll see. I would love to fill this gap in my collection, and I do love this record.
Here's another one from the same seller: Dexter Gordon, Our Man in Paris, Blue Note 4146. This is probably an original pressing with the Van Gelder in the dead wax, although there is no mention of the Plastylite ear. The bidding is a bit more than $110 and there are also two days left in this auction. If I were to bid on this, which I won't, I would at least inquire about the ear. Never hurts to ask.
One more Blue Note, while we're on the subject:
Thad Jones, Detroit-New York Junction, Blue Note 1513. This is an original pressing with the Lexington Avenue address and flat edge. This is a very reputable dealer who used to have a great store in Cambridge, Ma. This record looks to be in VG+ condition, based on the description and our grading terminology, and probably VG or VG+ for the cover. The price is in the $150 range and I would have been interested in this record if I did not receive a very nice copy for my birthday a couple of years ago, courtesy of The Lovely Mrs. JC with an assist from Fred Cohen at the Jazz Record Center.