Tracking a Trio of Jazz Vinyl Gems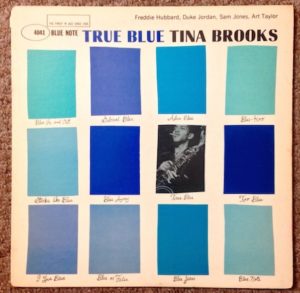 Back to eBay: Tina Brooks, True Blue, Blue Note 4041. This was an original pressing. The record was listed in VG condition and the cover was listed as VG+. The seller intimated that the record might be closer to VG+ than VG, but the pictures of the cover made it look like the cover was closer to VG than VG+, so if I were bidding I would have stuck with the VG. The final price was $1,390.
Tommy Flanagan, The Cats, New Jazz 8217. This was an original purple label deep groove pressing that was listed in VG+ condition for both the record and the cover. This record, of course, features John Coltrane as a sideman. This copy sold for $410. This is one of those records that has really increased in value and demand during the time period (eight-plus years) we've been doing the Jazz Collector site on a regular basis.
Wow, look at the final price on this one: Brent Axen, Poll Winner, Fona Klubben LPJ 416. This is an original Danish pressing from 1959. I have to admit, were it not for eBay and following the jazz vinyl listings so closely, I would never have known about this record. I do know that I've never seen a copy. This one was in Ex condition for the record and Ex or VG+ for the cover. The final price was $2,392.