Tracking Blue Note Jazz on 78-RPM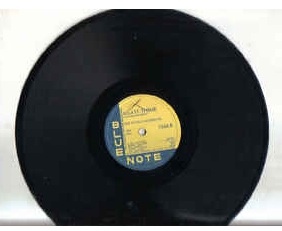 I bought that collection and I found that it had a bunch of 12-inch Blue Note 78s so I did a search this morning on eBay for Blue Note 78s, since it is not something I have tried to collect in the past. It turns out the records I acquired — the Sidney Bechets and Albert Ammons and Art Hodes — don't seem to have much cachet as collectibles. If you look at closed items, they generally sell in the range of $10 and less. However, in doing the search I found a few interesting bop 78s that sold for higher prices, including:
Bud Powell's Modernists with Sonny Rollins, Blue Note 1568. This 78 includes Dance of the Infidels and 52nd Street Theme and it was described as being in better than VG+ condition, but not quite M-. This sold for $89.88.
Max Roach Quintet, Blue Note 1569. This contains Prince Albert Part 1 and 2, with Kenny Dorham and James Moody. Let's see how well my memory is working: Prince Albert is a head based on All the Things You Are, if I recall properly, and this version, in addition to being issued on 78, was issued
on a 10-inch LP, but not a 12-inch LP? I put that as a question mark because I don't always trust my memory these days and I'm hopeful someone with either more knowledge or more time will either confirm or correct my recollections. This sold for $67.66
There was also this one: Thelonious Monk, Blue Note 1565. This one had Monk's Mood and Who Knows. It was in VG+ condition and sold for $50.75.
The one other thing with buying 78s on eBay: They are difficult to package properly and not every seller is able to do so. I've heard of several experiences of records arriving cracked and, frankly, I had that happen to me — as a seller, not as a buyer — even though I had used the latest state-of-the-art packaging materials from Bags Unlimited. These things are just fragile, as anyone who has collected them can firmly attest.