Apr 27, 2012 Blue Note, Prestige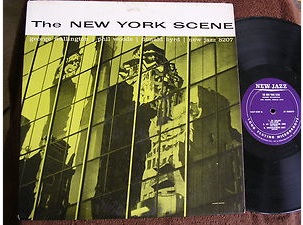 Here's some jazz vinyl we've been watching on eBay:
George Wallington, The New York Scene, New Jazz 8207. This was an original pressing with the purple label and the deep grooves. The record was described as looking VG but playing much better, which is often the case with these LPs that were pressed on heavy vinyl in the 1950s. The cover was VG+. The price was $218.50. With some records, you never forget exactly where and how you purchased them. This is one of those records for me. I was in one of my favorite record stores on Long Island, years ago, and there was a 25 cent discard bin. I usually ignored it because it was mostly junk in poor condition. This one day I happened to look through it and, boom, there was this record. I pulled it out, figuring it must have been either cracked or completely scratched up. It was in perfect mint condition. Somebody made a mistake. Whenever I'd go into that record store after that, I'd always make sure to check the 25 cent discard bin. And, wouldn't you know it, a couple of years later I found an original Prestige Bennie Green LP, also in nice condition. I still have both records in my collection.
Jackie McLean, Capuchin Swing, Blue Note 4038. This was an original deep groove pressing and was listed in VG++ condition for the record and M- for the cover. It sold for  $407, which is a little bit surprising because we'd expect this record, in this condition, to fetch more than that. Although, to be fair, the $407 is the highest price we've seen for this in the Jazz Collector Price Guide. So, the question is, why does this record, an excellent record indeed, not get the same prices as some of the other rare Blue Notes of the same era?
Tags: George Wallington, Jackie McLean