Tracking Some Jazz Vinyl Favorites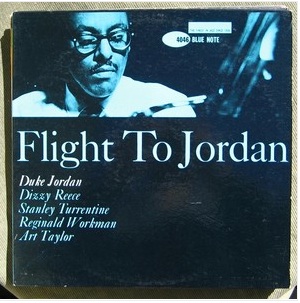 Here's some more jazz vinyl auctions we've been watching on eBay:
Duke Jordan, Flight to Jordan, Blue Note 4046. This was an original pressing in VG++ condition. It sold for $550. I recently purchased a copy of this record for $300 in condition that was perhaps a little bit less than VG++. It's more than I have traditionally paid for records, but I've always liked this one. And $300 seemed like somewhere between a fair price and a bargain.
Sonny Rollins, Tenor Madness, Prestige 7047. This was sold by one of our regular readers. It was an original New York pressing.The record was in VG+ condition and the cover was M-. Frankly, I thought it would fetch a higher price. For some reason, I've been thinking about my Rollins records and I have come to the conclusion that, all things considered, this is my favorite. I love all the quartet tracks and then, of course, you have Sonny and Trane in their primes playing with great passion and respect for one another. And Paul's Pal to open Side 2 — does it get any better than that? I don't think so.
Speaking of favorites, I think this may be my favorite Dexter record, off the top of my head: Dexter Gordon, Our Man In Paris, Blue Note 4146. This was an original pressing, although in the in the picture I could swear I see deep grooves — they shouldn't be there, right? The record was in VG+ to VG++ condition and the cover was probably VG+, with a pretty good bruise on the bottom. It sold for $212.50.