Tracking Some Rare Beauties on eBay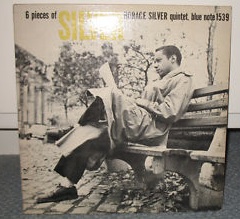 Couple of interesting jazz vinyl auctions taking place now from sellers who would be quite familiar to the Jazz Collector audience. First up is collossus3: He's the one who had access to the Leon Leavitt vault and was, he says, able to pick and choose the best copy of each of the rare records. Among those rare records now available on eBay are: Freddie Hubbard, Open Sesame, Blue Note 4040. This is an original pressing and it is described as being in pristine condition, M- all the way fro the record and the cover.  There is a reserve price, which of course is undisclosed, as well as a buy-it-now price of $2,500. So far the bidding has not yet hit the reserve price and is in the $250 range. We've seen this record sell for as much as $1,500 in the Jazz Collector Price Guide, so we'd certainly expect the bidding to top $1,000 at some point. Whether that will be enough to hit the reserve price, we'll see, assuming no one gobbles it up at $2,500. From the same seller comes Horace Silver, Six Pieces of Silver, Blue Note 1539. This is an original Lexington Avenue pressing with the flat edge. It is not only described as being in extraordinary immaculate condition, the vinyl even has  a"jewel-like" finish. Gotta love it. In any case, this one is still under $200 with a couple of days left on the bidding and it hasn't reached the reserve price either.
The other interesting auction we're watching is from the seller Sweedeedee from Stockholm, who often has nice pieces for sale on eBay. This week some of his listings include:
Kenny Dorham, Quiet Kenny, New Jazz 8225. This looks to be an original purple label pressing with the deep grooves. The record is described as being in VG++ condition for both the record and the cover. The current price is $565 with two days left. This one will surely get into the $1,000 bin and may even squeeze its way into the $2,000 bin. Our top price on the Jazz Collector Price Guide for this one has been more than $2,300. From the same seller comes Thad Jones, Detroit-New York Junction, Blue Note 1513. This is an original Lexington Avenue pressing. The record is in M- condition and the cover is VG+. The bidding is in the $230 range, but this would seem to be a record that will sell for at least $500 and probably more, don't you think?