Two Reds and a Blue (Note)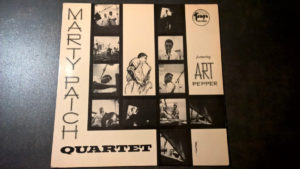 This one fetched quite a nice price on eBay: Marty Paich Quartet featuring Art Pepper, Tampa 28. This was an original pressing with the red vinyl. It was listed in Ex condition for both the record and the cover, and the seller certainly posted some nice clear pictures. The final price was $1,181. That's the highest price I recall seeing for this record, although there was one in Popsike that I must have missed that sold for $1,225.
Then there was this one that didn't get a bid at all: Lee Morgan, Candy, Blue Note 1590. This looked to be an original West 63rd Street pressing, unless I'm missing something. The seller's description was all over the place in terms of the condition. At one point he said it was strong VG+, then VG. He also mentioned the word "pops," which is not something you want to hear unless
it's a Louis Armstrong record. Anyway, there was a start price of about $1,400 and no one took the bait.
It must be a day for red wax: Dexter Gordon, Dexter Blows Hot and Cool, Dootone 207. This is an original pressing with the red vinyl. The record looks to be in about VG condition based on the seller's description and his answer to a reader's question. The cover looks nice and is graded at Ex. The start price is nearly $900 and there are no bidders with about four days left on the auction. I have a feeling this one will sell, but not to me.