Sep 21, 2011 $1000 Records, Blue Note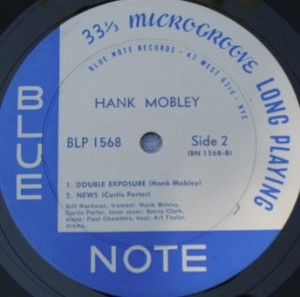 Some of you have beaten me to the punch on this, but let's all catch up on some of those heavy-duty auctions that closed yesterday, starting with Hank Mobley, Blue Note 1568. This was the one from the Leon Leavitt collection, in unplayed condition for the vinyl and pristine condition for the cover. It was sort of a first press, with the deep grooves, West 63rd address but not the NY 23 on side two. Read the comments on the earlier post for details and opinions. Anyway, at one point this one had a buy-it-now price of $5,000 and I suggested someone should just jump in and take it, but then the buy-it-now option disappeared from the listing. Good decision by the seller. This one sold for $5,600. There were 20 bids but, incredibly, nearly 1,900 page views, which to my recollection is the most I've ever seen for any jazz record. This is also the highest price for a jazz record we've ever recorded at the Jazz Collector Price Guide.
This seller did quite well last week with stuff from Leon Leavitt's collection don't you think? Here are a few more:
Jutta Hipp with Zoot Sims, Blue Note 1530. This was an original Lexington Avenue pressing. It was also described as unplayed condition for the vinyl and pristine for the cover. It sold for $3,650. Wow. Also, Dizzy Reece, Star Bright, Blue Note 4023. The description on this was somewhat hyperbolic, perhaps: "A perfect copy, undoubtedly the best in the world." Perhaps there's a cleaner copy on Mars. This one sold for $2,948. One more: This one was also unplayed, pristine an a one in a million copy, although, again, if there were a million of these pressed in the first place, it wouldn't be worth so much money. Perhaps a one in 2,000 would be more accurate. Just kidding, you know: Dizzy Reece, Blues In Trinity, Blue Note 4006. This one sold for a mere $1,350.
Tags: Dizzy Reece, Hank Mobley, Jutta Hipp, Leon Leavitt, Zoot Sims