Various Vinyl Odds and Ends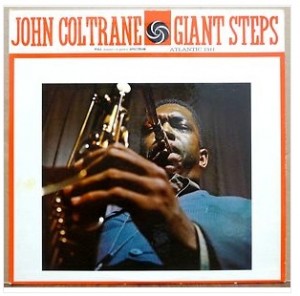 Haven't been on eBay in a few days. Here are the results of some of the jazz vinyl auctions we missed:
John Coltrane, Giant Steps, Atlantic 1311. This was an original black label pressing. It was listed in VG++ condition for both the record and the cover. It sold for $510. It's nice posting Giant Steps every once in a while so I can put a picture with the post and just take a look at it again — inspiring me to put the record on the turntable.
Perhaps I owe CeeDee an apology for this one: Donald Byrd and Pepper Adams, Out of this World, Warwick 2041. This was an original pressing in what looked to be VG+ condition for the vinyl and probably VG+ or VG++ for the cover. It sold for $159.99, higher than I would have expected. CeeDee and I made a trade involving this record and Dexter Calling a few months ago and at some point I may have made some kind of disparaging remark about the Byrd/Adams record. No doubt, it had more to do with the quality of the recording than the quality of the music. My copy just sounded very dull and flat, particularly compared to a Blue Note pressing from the same era.
Thelonious Monk With Sonny Rollins, Prestige 7075. This was an original pressing listed in M- condition for the record and what looked to be VG++ for the cover. It sold for $358.99.
What do you make of this: Dexter Gordon, Go, Blue Note 4112. From all appearances this looks to be an original pressing with the New York USA label and the Van Gelder in the dead wax. There is no mention of the ear and the seller somehow calls the record Bass on Top at one point in the listing. Seems a little flaky, but the record and cover were listed in VG+ condition and the price was only $92.89, so someone may have gotten a nice bargain.