Vinyl Updates from Blue Note and Norgran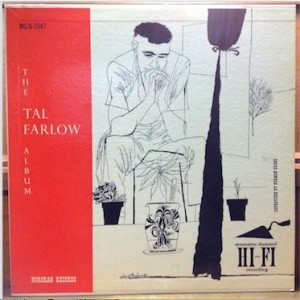 Let's catch up on some more jazz vinyl we've been watching on eBay, starting with The Tal Farlow Album, Norgran 1047. This was an original 12-inch pressing with the very nice David Stone Martin cover. The record and cover both looked to be in close to M- condition and the start price was about $180. I didn't expect the record to sell and it didn't. One reason I posted it here is because I love the cover. Also, I do believe some of these great original Norgrans should get more attention, although, to be fair, the 10-inch version of this is the original release as well as the better-sounding version. The 12-inch has four additional tracks from a different date. This is one of the great jazz guitar records, so if you don't have it, put it on the list.
So this one wound up selling, no surprise: Johnny Griffin, A Blowing Session, Blue Note 1559. This was the one that was sitting at around $1,200 and hadn't reached the seller's reserve. The record was in M- condition and the cover was ex. The price made it past the seller's reserve price — and the way up to $2,125. Seems that what used to be the $1,000 bin when we started more than a decade ago is now the $2,000 bin, if you know what I mean.
This one was from The Jazz Record Center: Sonny Rollins Plus Four, Prestige 7038. This was an original pressing with the first cover, framed cover and yellow label with the New York address. The record and cover both looked to be in M- condition. The final price was $555.55, IMHO a bargain for a great record in great condition. If only it were on Blue Note.