Watching a Pair of Heavy Hitters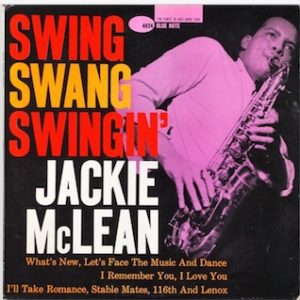 I'm back on eBay and have a couple of heavy hitters on my watch list, starting with Jackie McLean, Swing, Swang, Swinging', Blue Note 4024. This is an original West 63rd Street pressing listed in VG++ condition for both the record and the cover. The seller has a start price of about $700. There are more than three days left on the auction and so far there are no bidders. I'm pretty sure this one will sell and perhaps even break into the $1,000 bin. I love this record. It's a bit of an aberration for Blue Notes of the era because it is mostly standards and just one original. Not sure what Jackie was thinking at the time because none of his subsequent Blue Notes followed the same pattern. Maybe he just needed the cash? In any case, a great album, and one that I've never been able to acquire in this kind of condition. My own copy is kind of VG or VG+ and I'd love to upgrade. Someday, maybe, but not this week.
Hank Mobley, Mobley's Message, Prestige 7061. This is an original yellow label New York pressing. The seller describes it as "gorgeous" but only grades it VG+ for the record and VG+ for the cover. Not sure how to read into that. There is a bidder for this record so it will sell. The price is around $600.