Watching a Trio of Blue Note LPs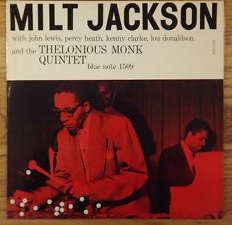 I have quite a long watch list of jazz vinyl on eBay at the moment, including a bunch that are closing today from the same seller, including: Milt Jackson and the Thelonious Monk Quintet, Blue Note 1509. This is an original pressing with the Lexington Avenue address on both labels and, I think, on the cover as well if my aging eyes don't deceive me. When I looked at this yesterday there were no bids at a $200 start price, but I see today there is at least one bid. Although this is an early 12-inch Blue Note and it is clearly an original, this one tends not to be as valued as some of the other early Blue Notes. Once of the reasons, for sure, is the fact that the tracks here were originally issued on 78 and don't have the same sound or cachet as the later Van Gelder recordings that were made for the LP format. Also, as great as Milt Jackson was, his records aren't in the same category as some of the other artists of his era. Must be the vibes. Still, this is a record I would love to have in my collection, particularly this one  — in M- condition for the record and cover. Will I actually bid? I think I may. Stay tuned.
This is from the same seller and is already at quite a high price tag, considering the popularity of this record and the number of copies out there:
Art Blakey and the Jazz Messengers, Blue Note 4003. This is an original West 63rd pressing and it looks to be in M- condition for both the record and the cover. It's one of the classics, right? When I moved into my new apartment a couple of months ago and set up my turntable, this was one of the first records I put on, partly in memory of my father, who would have recently celebrated his 85th birthday. This is already at about $610, which is about $607 more than my dad paid for this record when he first bought it.
Sticking with the same seller for now, Hank Mobley Quintet, Blue Note 1550. This is also an original pressing and it is also in M- condition for both the record and the cover. The current price is $1,225.