Mar 3, 2010 Blue Note, Norgran, Prestige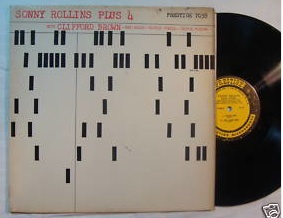 Here are some records we're watching now on eBay:
The same seller that has the copy of Hank Mobley, Blue Note 1568 with a start price of almost $3,000 also has this: John Coltrane, Blue Train, Blue Note 1577. This is an original West 63rd Street pressing and it is listed in VG++ condition. The start price is about $900. It's interesting to watch this and the Mobley because the seller obviously decided to go with a high start price rather than put the record up with a reserve price. I actually prefer it this way as a buyer, but as a seller I'm not sure which is the best way to get people to bid.
I'm watching this one because it's mine: Sonny Rollins Plus Four, Prestige 7038. This one is a New York pressing with a New York cover. The cover is not the kakubushi frame, but it's hard not to consider this an original pressing with both
the New York address and cover. Anyway, I had three copies of this record: Two with this cover and one with the kakubushi cover so, in the spirit of the Great Jazz Vinyl Countdown, I decided to sell one of them. It currently has a price of $100 and no bids. It's closing today. I'll be shocked if it doesn't sell, but if it doesn't I'll be happy to keep it: One of my all-time favorite records, for sure. I'll also be happy to keep this if it doesn't sell: An Evening With Charlie Ventura and Mary Ann McCall, Norgran 1053. This is a nice pressing in M- condition and it has a beautiful cover by David Stone Martin. I put a starting price of $50 on it — quite reasonable in my estimation — and so far this one also doesn't have any bids. I have a few other interesting items closing today, so it may be worth a look.
Tags: Charlie Ventura, Hank Mobley, Jazz Vinyl, John Coltrane, Kakubushi, Mary Ann McCall, Sonny Rollins