Mar 30, 2012 Blue Note, Prestige, Price Guide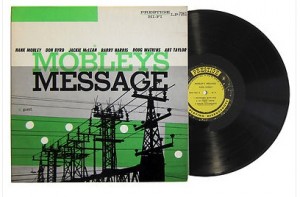 At some point soon I will be updating the Jazz Collector Price Guide. My inclination is to not include some of the recent sales we've been watching here, such as Getz/Gilberto and Miles Davis Four and More since they are clearly aberrations and not indicative of the overall market. I think they would tend to give people false expectations as to real market value. What do you think?
In the meanwhile, here are some other jazz vinyl auctions we are watching on eBay.
Hank Mobley, Mobley's Message, Prestige 7061. This is an original yellow-label pressing with the New York address. The record and cover are both listed in M- condition. The price is $165.50 and there are more than two days left in the auction. Tempting, although I have a feeling the bidding will definitely surpass the $600-$700 range and perhaps slide into the $1,000 bin. All of which would put it out of reach for me.
Louis Smith, Smithville, Blue Note 1594. This is also an original pressing. The cover
is described as VG, which is what it looks like based on the picture and the record is described as a little less than excellent, which is somewhat meaningless to me, although I would guess that the record has some scuffs and marks and probably plays pretty well because it's a heavy pressing Blue Note. In any case, the bidding is at about $200 and there are still more than three days left.
Tags: Hank Mobley, Jazz Vinyl, Louis Smith