We get email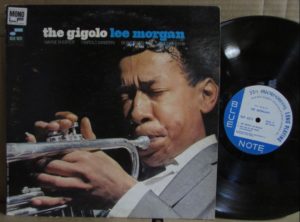 Here's a sampling of email from the past few days. We start with our old reliable friend CeeDee who sent us four links under the subject line: "'Give me Liberty or give me . . . uh, can I get back to you on that?' plus two." One of the links was one that we've previously written about: Wayne Shorter, Adam's Apple, Blue Note 4232. This was the original mono pressing with the shrink wrap that sold for, gulp, $997.50. Next was Lee Morgan, the Gigolo, Blue Note 4212. This was also a mono Liberty pressing. I had never considered this to be a collectible Blue Note, but perhaps I'll have to change my assessment. This one looked to be in VG++ condition for the record and VG+ for the cover. It sold for $417.
Next up: Dexter Gordon, A Swingin' Affair, Blue Note 4133. This looked to be an original New York USA mono pressing, probably in M- condition for both the record and the cover. The final price was $676. Given the way things are trending, would anyone be surprised to see this record, and others of its ilk/era, in the $1,000 bin someday soon? Finally there was Grant Green, Sunday Morning', Blue Note 4099. This was an original New York USA pressing. It was listed in M- condition for the record and VG+ for the cover. In my eyes, the cover grading raises strong credibility questions about the seller. Look at the pictures and the description. There is no way that cover is anything better than VG. I think even Gregory the Fish, who disagreed with my last assessment, will agree with me on this one. GTF are you there? Anyway, cover and all, this one sold for $481.26.
This came from another reader: Tommy Flanagan Overseas, Prestige 7134. This was an original Yellow label New York pressing. The record and cover were in VG+ condition. The price was $2,254.99. The price for this record is not out of the ordinary, but for this record in this condition it seems like we are approaching new territory, don't you think?
Finally, I don't normally do this, but this person was trying to post a comment on the site and wasn't able to get it posted and I don't know how to fix my site, so I'll take the lazy way out and post it here, in case anyone is interested. I'm not going to make a regular habit of this, so don't get any ideas.
Message Body:
JAZZ CDs FOR SALE  : Italian label  RED RECORD
Hi everybody, 
i'm from Italy and I'm going to sell many of this rare and wonderful titles, from my Private Collection. Each CD is in mint condition, like new.
ORIGINAL CD First print (not reissue!) – Made in ITALY
 15 $ / each CD
  I can ship Worldwide at cost (for shipping costs contact me) 
Payment methods: BANK TRANSFER (preferred for European customers), PAYPAL 
Please feel free to email me for any question , additional information and total price for multiple purchases  
a.legend@virgilio.it
On sale:
ATTI CARLO      Featuring Hal Galper Trio – Sweet Beat Blues    Red Records 123277-2 RED
BAKER CHET      At Capolinea           Red Records 123206
BISHOP WALTER JR.       Midnight Blue   Red Records 123251-2 RED
BOSSO FABRIZIO   Fast Flight            Red Records 123287-2 RED
GROSSMAN STEVE   Love Is The Thing                Red Records 123189.2 RED
HENDERSON JOE   An Evening With Joe Henderson-Charlie Haden-Al Foster Red Records 
HERSCH FRED-LASPINA STEVE-HIRSHFIELD JEFF       ETC            Red Records 123233-2
HIGGINS BILLY   3/4 For Peace          Red Records 123258.2 RED
HIGGINS BILLY   Soweto         Red Records 123141-2 RED
LEWIS VICTOR    Know It Today, Know It Tomorrow      Red Records 123255 RED
LIEBMAN DAVE    QUARTET-Setting The Standard          Red Records 123253-2 RED
LIEBMAN DAVE-D'ANDREA FRANCO    Nine Again            Red Records RR 123234 – 2
MCDUFF JACK          Jack-Pot              Red Records RR 123267-2
MELILLO MIKE    TRIO-Bopcentric       Red Records 123279-2 RED
MELILLO MIKE    Alternate Changes For Bud              Red Records 123211.2 RED
MOSSMAN MICHAEL PHILIPS-SCHNYDER DANIEL Granulat   Red Records 123240-2 RED
NELSON STEVE QUINTET    Live Session Two              Red Records RR 123235-2
OATTS DICK-SANTORO DAVE QUARTET    Meru         Red Records 123274-2 RED
SNIDERO JIM         While Your Here              Red Records 123241-2 RED
SPHERE  Pumpkins Delight – Sphere Live At Umbria Jazz     Red Records 123207-2 RED
STEWART ROBERT Nat The Cat – The Music Of Nat King Cole Red Records 123292-2 RED
STEWART ROBERT      Beautiful Love              Red Records 123273 – 2 RED
TRANCHINI SALVATORE With Jerry Bergonzi, Franco Ambrosetti – Radio Suite Red Records 
URBANI MASSIMO      The Blessing        Red Records 123257-2 RED
URBANI MASSIMO  360°     Aeutopia            Red Records 123146-2 RED
WALTON CEDAR    Piano Solo-Blues For Myself      Red Record 123205.2 RED
WOODS PHIL  Integrity – The New Phil Woods Quintet Live Red Records RR 123177  (2CD)
WOODS PHIL      European Tour Live      Red Records 123163.2 RED   (2CD)