Weighing in on Mobley, Catching Up on Newk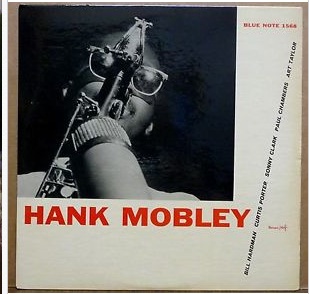 Interesting comments on the previous post. My first exposure to Hank Mobley was as a sideman on some of the records that my dad owned, most prominently Donald Byrd's A New Perspective and Miles Davis Someday My Prince Will Come. He always struck me as a solid player, but in the early days of discovering jazz it was the more passionate players and the innovators that got my attention: Sonny Rollins, John Coltrane, Dexter Gordon and Stan Getz on tenor and Charlie Parker and Cannonball Adderley on alto. I always relegated Mobley to the second tier, which is certainly no insult when compared to the players I just mentioned. When I became more of a "collector" I was surprised to see the Mobley records so highly valued. So I have turned to him again, often, to reassess, but I always come back to my original assessment. If I want to listen to genius I put on Coltrane or Rollins. Otherwise, Mobley will do just fine. And, as a collector, it's really nice to look at those original Mobley Blue Notes, Prestiges and Savoys on my shelves and occasionally put them on the turntables. They rarely overwhelm, but they never disappoint.
Meanwhile, while all that discussion has been taking place here at Jazz Collector, there have been auctions going on at eBay, including:Hank Mobley, Blue Note 1568. This is the semi-original pressing with the West 63rd labels but not the NY 23 label. It was in M- condition for the record and Ex condition for the cover and received a top bid of $3,050. But it did not sell because it didn't meet the seller's reserve price.
There were comments on the price of this one as well: Sonny Rollins, Saxophone Colossus, Prestige 7079. This was the one from the Jazz Record Center in M- condition for the record and M- or VG++ for the cover. Readers were surprised that it sold for "only" $1,792. I tend to agree with the theory that the prices from the Jazz Record Center may be somewhat reduced because they don't accept Pay Pal, but it's just a theory. They are certainly the most credible and reliable of the dealers I've ever dealt with.
More than forty bids for this (but not nearly that many bidders): Sheila Jordan, Portrait of Sheila, Blue Note 9002. This was an original New York USA pressing listed in M-/VG++ condition for the record and M- for the cover. It sold for $340.55.