What Happens? Records Sell for High Prices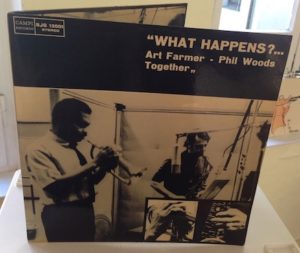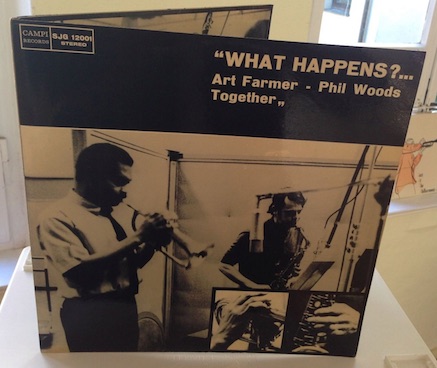 Once again we find another record that is unfamiliar to us, this one sent in courtesy of our friend CeeDee: Art Farmer and Phil Woods, What Happens?, Campi SJG 12001. This was an original Italian promo pressing from 1969.  It was listed in M- condition for the record and  VG++ for the cover. It sold for $355. I did a quick search to learn more about the record but pretty much came up empty. That's why it's nice to have the Jazz Collector community weigh in with our collective knowledge. So, friends, what's the story behind this record and the label?
I think a lot of us had our eye on this one: Hank Mobley, Blue Note 1568. This was an original original pressing, with the New York 23 on one side. The record and cover were both listed in VG+ condition. The final price was $3,998. There were 11 bidders. Given the rarity of this record, the price of nearly $4,000 seems to be market-appropriate, even with the VG+ condition. Based on the description, I'm sure the buyer is expecting this to be somewhat under-graded, particularly since there can be such a wide span within the VG+ category, don't you think?
Even though I wrote about this record last week, the final price surprised me somewhat: Sonny Rollins Plays, Period 1204. This one was also in VG+ condition for the record and the cover. When I was looking at it, it was in the $500 range. It wound up selling for $1,061. Welcome to the $1,000 bin.
Ever since I started watching the original U.K. Esquire issues of Prestiges they've been going up in value. Case in point: Miles Davis, The New Miles Davis Quintet, Esquire 32-021. This was an original U.K. pressing. Based on the description the record would probably be VG++, maybe VG+ if you are a real stickler. The cover was listed as Ex+. The final price was $506.38. That's starting to get into the range of an original U.S. pressing.