What's it Worth to You: Kind of Blue Signed by Miles, Trane and Paul Chambers?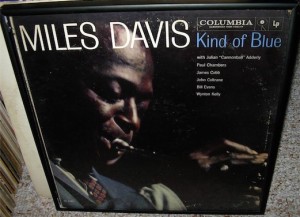 Perusing eBay this morning and came upon this very interesting, and very expensive, item: Miles Davis, Kind of Blue, Columbia 1355. This is described as a limited edition pressing of Kind of Blue, with the back blank. The seller says this was issued for record executives and promoters, which seems possible, although I've never seen one before, and I've been looking for 45 years. The thing with this one is that the back isn't exactly blank — it's been signed by Miles Davis, John Coltrane and Paul Chambers, with a "Best Wishes" thrown in by Trane. It looks pretty authentic, although I'm not an expert on autographs. It is listed in VG++ condition for the record and the cover looks pretty nice, although not actually graded. The seller says it came from her husband's collection and original priced it at $25,000. It is now up for auction with a start price of about $5,000 and a buy-it-now price of $12,500. Who among us wouldn't want to own this one? But at what price?
Dizzy Reece, Star Bright, Blue Note 4023. This is an original West 63rd Street pressing that is listed in M- condition for both the record and the cover. It also has a stamp on the back: "Property of Donald Byrd." Does that enhance the value for anyone, or detract from it? For me it would enhance my interest in owning it, although as a seller I would never grade the cover M- with a former owner's stamp on it, regardless of his degree of fame. But that's just me. The auction closes later today and the price is only in the $110 range.