When You're Smilin'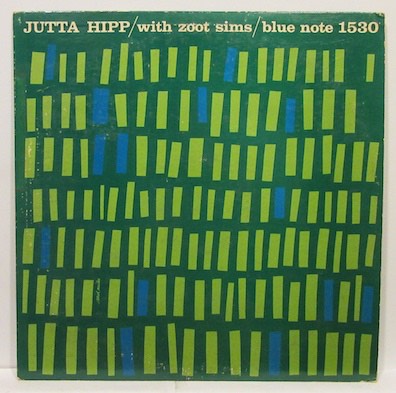 Now that I have no election to obsess over, and I don't yet have the appetite to read about what will happen next to my wonderful country, I have more time to listen to records, read about jazz and look at the always interesting activity on eBay. So, perhaps, I will do more Jazz Collector posts and finally set aside time to put into the Jazz Collector Price Guide, which can really use an update. Look for the silver lining, as the wonderful song says.
Anyway, here are a few of items that recently sold on eBay, starting with Jutta Hipp with Zoot Sims, Blue Note 1530. This was an original Lexington Avenue pressing listed in VG++ condition for the record and VG+ for the cover, with some visible staining on the back cover that could be a turn off for some buyers, but obviously was not that big a turn off for the buyer of this copy, who paid $2,850.88. In fact, looking over the cover pictures again, it looks like VG+ is a pretty generous grade. I have an absolutely clean version of this record that I purchased from the Bruce M. West collection in Baltimore, thoughts of which always put a smile on my face.
Speaking of things that always put a smile on my face, someone sent me this great article about the classic album Ella and Louis, which is celebrating its 60th anniversary. I was pretty sure I once did a "desert island list," but I can't find it in the archives. Anyway, I'm confident if I ever did do a list or if I ever do one in the future, this record will be in the top five, if not number one. Music does not get any better than Ella and Louis.
One more from the eBay watch list: Roy Haynes, Cracklin', New Jazz 8266. This was a purple label with no deep groove. Does that preclude it from being a first pressing? I think so. The record was M- and the cover was VG+. The final price was $135.50. Does that price indicate that it was not a first pressing? I think so.