Why a Monk?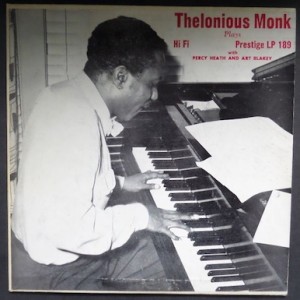 Thanks to Lennib for spotting this one: Thelonious Monk Plays, Prestige 189. This was an original 10-inch pressing, listed among the very nice 10-inch records we mentioned the other day. This one was also very nice, probably in M- condition for both the record and the cover. Even in this condition, the price was quite a surprise, selling for $1,136.11. That has to be the highest price we've seen for a 10-inch Prestige and, frankly, there's no explanation we can come up with, other than the likely reality that two people really, really wanted this record and the bid the bidding up. From what we can see, the other records in this batch sold for prices that you would typically expect, given the titles and condition, including:
The Amazing Bud Powell Volume 2, Blue Note 5041. This one sold for $511.
Horace Silver Quintet, Blue Note 5062. This one sold for $422.
Horace Silver Trio, Blue Note 5018. This one sold for $472.
George Wallington Trio, Progressive 3001. This one sold for $382.
Miles Davis, The New Sounds, Prestige 124. This one sold for $168.