Wilen, Sonny Red (and a Story Goes With It)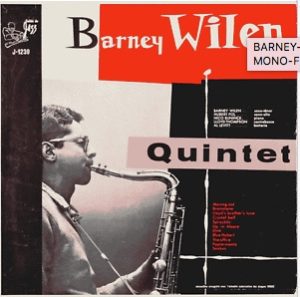 Clifford had mentioned this in a comment on one of the posts from earlier this week: Barney Wilen Quintet, Guilde Du Jazz J-1239. This is an original pressing that looks to be in VG++ condition for both the record and the cover. The bidding is close to $400 with two days left, but it has not yet reached the seller's reserve price. We've seen some very high prices for this record in the past, including one that approached $3,000, although that seemed to be an aberration. Still, we expect to see a fairly high price tag on this one, given the condition. If you miss out on that one there's another original copy of the same record closing a couple of days later. This one isn't quite in the same condition. The record is graded Ex and the cover is VG. The start price is about $700 and so far there are no bidders.
What was I thinking when I traded away a copy of the following record more than 30 years ago?
Sonny Red, Out of the Blue, Blue Note 4032. This looks to be an original mono pressing. The record and cover are graded at VG++, but one look at the picture of the back cover will tell you that it is not VG++ and is no better than VG+. I think sellers lose credibility when they do this, but this seller has been doing very well lately. It's the same seller as the first Barney Wilen record mentioned earlier.
Anyway, my history with this record: Many years ago, I would guess 1984 or so, I was visiting my aunt and cousins in Hicksville on Long Island. There was a store called Titus Oaks just around the corner. It was housed in an old Wetson's, which was one of the first fast food hamburger restaurants anywhere. On the East Coast I think Wetson's preceded McDonald's. Anyway, I told the family I had to run out for a bit and, of course, went to Titus Oaks. Boom, I hit the jackpot. Someone had just come in with a huge batch of original Blue Notes, all in perfect, unplayed condition. I don't know if the person worked for Blue Note or just collected. All I knew was that these were beautiful, every single one of them, and the clerk at the store was literally putting them into the bins as I walked in.
One of the things I loved most about Titus Oaks at this time was that they had NO IDEA what they were doing. Nobody at the store understood the jazz market at all. So they priced each of the Blue Notes the same: Five dollars apiece. I walked out with about 30 titles, Blakeys, Silvers, McLeans, Dexters and, among others, Sonny Red Out of the Blue. It was one of my best scores ever.
At the time, I was trying to build out my collection of original Prestiges. I wound up trading the Sonny Red and a couple of other nice Blue Notes for a few original Prestiges, but not the really hard to get titles. Titles, in fact, that one would scoff at today and would certainly not consider in a trade for original Blue Notes. I'm embarrassed to say these titles and I've tried to blot them from my memory, but I think there were maybe a couple of Miles records, but also a couple of Gene Ammons and maybe even an Arnett Cobb.I didn't know what I was doing and wound up making a couple of bad trades that I have regretted ever since. And, of course, all these years later I still haven't replaced the Sonny Red record.