Win A Free Record, Part 2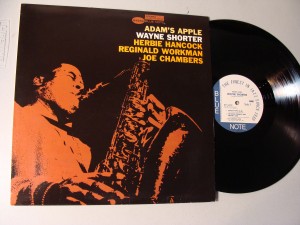 A few weeks ago at Jazz Collector we tried to give away a free record and no one seemed to want it. We posted a Bob Brookmeyer record on the site and simply asked people to leave a comment. No one did. But we gave the record away anyway, and we're happy to say it has arrived safe and sound in its new home. I will post the note of thanks separately. Anyway, we are not ones to give up too easily, so we are back to try and give away another record. This time it's Wayne Shorter, Adam's Apple, Blue Note 84232. This is a great record with Shorter, Herbie Hancock, Reggie Workman and Joe Chambers. This is not an original — we're generous, but not that generous — but a 1985 reissue from the original historical master tape. The record and cover are both in M- condition. We have one copy to give away, so this is a contest, but you don't have to do anything to enter the contest except leave a comment on this post.
The comment can be about anything — keep it clean, please, this is a family-oriented site — but it would be nice if the comment said something about jazz, like, for instance, "I like Miles Davis. He's cool." Or "Dexter Gordon is a gas." Or the always trustworthy "Bird Lives." Anyway, just post a comment on this post, anytime over the next two weeks, and you will be entered into a drawing to win this free record, no strings attached. We will even pay for shipping anywhere in the world. If you don't believe us, just ask Rudolf A. Flinterman, who received the Brookmeyer record in France. We are not doing this to put you on a mailing list or for any other nefarious intent — we simply want to get people commenting on the site and we want to see if anyone is paying attention. Plus, we have way more records than we'll ever need or we'll ever listen to, so giving one away every once in a while is no big deal. So, please, leave a comment. We'll announce the winner, here, right at Jazz Collector, in two weeks. Good luck.