Would You Pay $5,000 For This Record?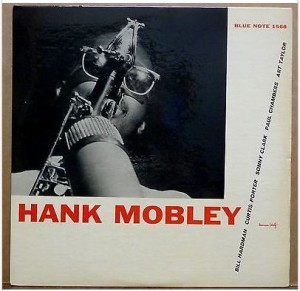 As promised, here is the original DownBeat review of Hank Mobley, Blue Note 1568, perhaps the most valuable and treasured of all the Jazz Collector collectibles. This is from Oct. 30, 1958 and the reviewer is John A. Tynan:
"Hank Mobley — Blue Note 1568: Might Moe and Joe; Falling in Love With Love; Bags Groove; Double Exposure; News.
"Personnel: Mobley, tenor; Curtis Porter, alto, tenor; Bill Hardman, trumpet; Sonny Clark, piano; Paul Chambers, bass; Art Taylor, drums
"Rating — Three and a half stars
"One of the nicer things about Al Lion and associates at Blue Note is that they don't hesitate to present new talent they consider worthwhile. On this set is presented 29-year-0old Philadelphia saxman Curtis Porter, who is equal to the company. Although it is Mobley's date, the leader allows generous space for the wailing of his fellow reedman, which makes for a high degree of hard blowing.
"Porter's alto and tenor work is more intensely staccato than Mobley's. He skips through his solos with light-footed adroitness, delicately sparring with the changes. And he always swings hard. Trumpeter Hardman remains a wishful spokesman for the late Clifford Brown. Though he blows with controlled ferocity and biting tone, he lacks the sense of construction and taste so necessary to major status. Clark, Chambers and Taylor combine in churning rhythm  section, with Sonny's frequent solos gems of taste and swing. His rippling tough and original, melodic constructions contribute much to the album's rating.
"Of the three originals here, Porter wrote two (Joe and News); Exposure is Mobley's. None is outstanding compositionally, but News offers an attractively melodic theme. Mobley's tenor is big, bustling, hard and virile — but still a considerable cut below the level established and sustained by Sonny Rollins and John Coltrane. When he speaks, though, it is with authority. The good moments are many in this set, and quite a few of them come from the horns of newcomer Porter. Let's hear more from him."
There is is. What do you think?