Guest Review: Goldmine Jazz Album Price Guide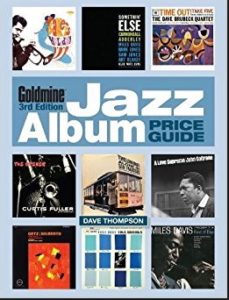 A few weeks ago one of our regular readers, Jay Fulmer,  asked if I had a chance to review the Goldmine Jazz Album Price Guide 3rd edition. This is not something I normally look at. Honestly, when I last looked at it maybe 10 years ago the prices were so off-base, IMHO, that I dismissed it pretty handily. Beyond that, if I want to know the REAL market value of an item, I typically look at Popsike or completed listings on eBay. Putting my own prejudices aside, however, I suggested that if Jay wanted to share his thoughts with the rest of the Jazz Collector community, he was more than welcome to write a guest column. He did. Here it is.
Review: Goldmine Jazz Album Price Guide 3rd Edition
By Jay Fulmer
More than a decade since the release of the 2nd edition, the 3rd edition of the Goldmine Jazz Album Price Guide is here.  As expected, many LPs have increased in value, but the changes in format from the 1st and 2nd edition are worth noting.
There is a new author for the 3rd edition, Dave Thompson, so I am assuming the format changes originate with him.  The 3rd edition only gives a NM value for listings.  With the addition of new listings this was probably the easiest way to save space.  Anyone familiar with Goldmine's pricing can easily enough extrapolate backwards, and those unfamiliar with their grading/pricing structure should from now on only buy NM albums!
The most significant format change is the alphabetical listing of album titles within each label category.  This might make finding a title easier, but it throws out the chronological aspect of the previous editions by not listing albums by catalog number.  This format change is not a positive for me, but this is a personal bias as I relied heavily on the 2nd edition when I was cataloging my own collection.  Organizing by catalog number doesn't necessarily guarantee chronology, but it is certainly much closer than alphabetical by title.
By their nature, catalogs such as Goldmine are "living" documents, constantly evolving as albums and pressings are still being discovered; as well as recording market fluctuations.  I suppose the irregularities and the omissions are a constant part of this evolution, and this 3rd edition has its share.  None of the editions thus far has listed the Anthony Braxton 3LP Oberlin Concert (Artista AL3 8900  1978), or the Richard Davis Trio Song For Wounded Knee (Flying Dutchman FD 10157  1973).  The 3rd edition omits Johnny Griffin Sextet (Riverside 12-264  1958), although it is listed in the previous editions.  The strangest irregularity I found in this new edition is the ABC Impulse Charles Mingus catalog being valued higher than his earlier Impulse releases. Can anyone explain that?
I was pleased to see that the values of the ESP catalog were increased, some surprisingly so.  Also the Blue Note Liberty pressings moved up incrementally and the OJC catalog values were increased.  One example of note is the Paul Bley Debut OJC valued at $150.00!  That increase was unexpected, in light of the fact that it is valued higher than his original 1957 Gene Norman Solemn Meditation LP.  I would love to hear other opinions and impressions of this newest Goldmine Jazz Album Price Guide, as I am sure that I have missed many omissions and other pricing irregularities. Will this price guide have an effect on the market over the next decade?