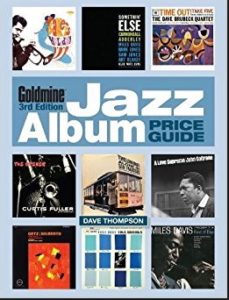 A few weeks ago one of our regular readers, Jay Fulmer,  asked if I had a chance to review the Goldmine Jazz Album Price Guide 3rd edition. This is not something I normally look at. Honestly, when I last looked at it maybe 10 years ago the prices were so off-base, IMHO, that I dismissed it pretty handily. Beyond that, if I want to know the REAL market value of an item, I typically look at Popsike or completed listings on eBay. Putting my own prejudices aside, however, I suggested that if Jay wanted to share his thoughts with the rest of the Jazz Collector community, he was more than welcome to write a guest column. He did. Here it is.
Review: Goldmine Jazz Album Price Guide 3rd Edition
By Jay Fulmer
More than a decade since the release of the 2nd edition, the 3rd edition of the Goldmine Jazz Album Price Guide is here.  As expected, many LPs have increased in value, but the changes in format from the 1st and 2nd edition are worth noting.
There is a new author for the 3rd edition, Dave Thompson, so I am assuming the format changes originate with him.  The 3rd edition only gives a NM value for listings.  With the addition of new listings this was probably the easiest way to save space.  Anyone familiar with Goldmine's pricing can easily enough extrapolate backwards, and those unfamiliar with their grading/pricing structure should from now on only buy NM albums! Read more