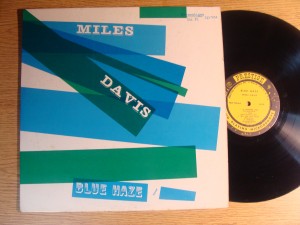 We haven't been very active selling on eBay lately: Just life getting in the way. However, this week we found some time to clean and post a bunch of items. It's a mixed bag, but there are a few nice ones, including:
Miles Davis, Blue Haze, Prestige 7054. This is an original New York yellow label Prestige. It's in VG+ condition, and sounds quite nice. We put a start price of $30 and it's already received a bid, so we expect there to be some action.
We also put up a nice-sounding original copy of Clifford Brown, Jam Session, Emarcy 36002. This also has a start price of $30. It's a great record, with a lot of positive energy. 
As you may have noticed on the Jazz Collector site, we've been going through some old Downbeat Magazines, looking for collectibles (we're even giving one away). We've put a few up for sale in our eBay story, and we put a very interesting one up for auction yesterday. It is: