Archive for the 'Collecting Tips' Category
Aug 19, 2010 $1000 Records, Blue Note, Collecting Tips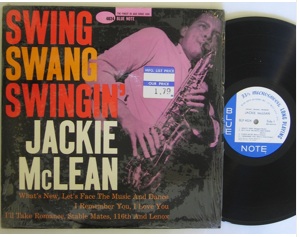 I went back to look at some of those listings from Paperstax that have generated all of this discussion and controversy. I started with Jackie McLean, Swing, Swang, Swingin', Blue Note 4024. When you look at the listing, it seems to have it all: West 63rd Street address, deep groove, but . . . when you look closely, Van Gelder in the dead wax as opposed to RVG, no mention of the ear. In bidding, I would assume — and did — that this was an original and that the seller inadvertently did not mention the ear and used Van Gelder descriptively as opposed to using the RVG. The reason is because I don't quite understand how this can be a Liberty pressing and still have the deep grooves. The same thing with:
Tags: Jackie McLean, Lou Donaldson
Jul 31, 2010 Blue Note, Collecting Tips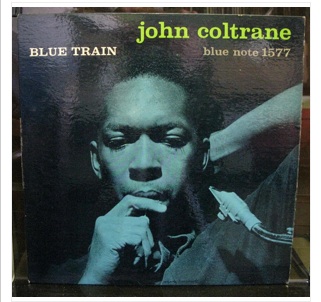 Here's a great one from our friend Don-Lucky on Blue Train:
Good afternoon Al,
I am not sure if your were watching this one already or not, but it sold quite for a record high today…
John Coltrane BLUE Train Blue Note 1577 w.63rd 23 NM!
Item Number: 400138742036
Selling Price: $1838.04
http://cgi.ebay.ca/ws/eBayISAPI.dll?ViewItem&item=400138742036&ssPageName=ADME:B:EOIBUAA:CA:1123
I was also chatting with Larry Cohn about this one earlier in the week and here is what he had to say on this auction:


Read the rest of this entry »
Tags: Blue Train, Jazz Vinyl, John Colttrane, Larry Cohn
Jul 6, 2010 Collecting Tips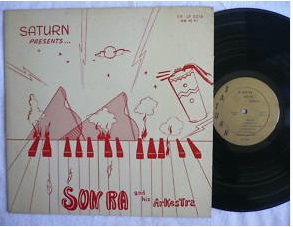 When I was in college back in the 1970s I had a friend who was a huge fan of Sun Ra and was often trying to get me to listen to the Sun Ra Arkestra. I must admit I never did get into the music and thus have no Sun Ra records in my collection nor do I know anything about Sun Ra collectibles, other than the fact that I've seen several of them sell for quite high collectible prices. I bring this up because I am now watching one such item on eBay: Saturn Presents Sun Ra and His Arkestra, Saturn 0216. This is listed as an original pressing in M- condition for both the record and the cover. This record already has been viewed nearly 600 times and
Tags: Saturn Records, Sun Ra
Jun 29, 2010 Blue Note, Collecting Tips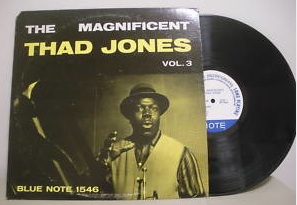 People have been asking about prices and values of later-pressing Blue Notes, so I've been watching a few just to keep tabs on the market. There was a seller last week that was selling a bunch of United Artists pressings, including: The Magnificent Thad Jones, Volume 3, Blue Note 1546. This one was in VG+ condition for both the record and the vinyl. The start price was $40 and there were no bids. So that price was definitely too high. However, if you look at his other completed listings, there were a bunch more United Artists pressings in better condition and they sold in the range of $15 to $25 each, for the most part. There was a Hank Mobley Quintet, Blue Note 1550, that sold for $25.49 and a Lee Morgan Indeed, Blue Note 1538, that sold for $15. There were others as well, including a couple of blue-and-white label Liberty pressings that sold for between $30 and $40. I also watched this blue
Tags: Euclid Records, Hank Mobley, Lee Morgan, Liberty Blue Notes, Lou Donaldson, Thad Jones, United Artists Blue Notes
Jun 22, 2010 Collecting Tips, Guest Columns, Jazz Vinyl
Our friend Rudolf Flinterman has written a comprehensive treatise/opus/tribute to the French Vogue label and has graciously asked us here at Jazz Collector to publish this and make it available to fellow jazz collectors all over the world, which we are pleased to do. We are attempting to publish this in two formats here, one as a post, below, and separately as an attached PDF file that you can download and print and save. So, without further ado, we turn it over to Rudolf, with all due respect and appreciation:
Tags: French Vogue
Jan 1, 2010 Blue Note, Collecting Tips, Questions
The Blue Note information provided by Larry Cohn has been invaluable and yet, it seems, there is always more to learn. We noticed this tidbit in a posting by Fred Cohen at the Jazz Record Center, which has a new auction on eBay this week: Wayne Shorter, Adams Apple, Blue Note 8232. This is listed as an original mono pressing with the Liberty label. Under normal circumstances you would expect this to be a New York USA label, based on the catalogue number. However, Fred points out
Tags: Jazz Record Center, Wayne Shorter
Dec 29, 2009 Blue Note, Collecting Tips, Questions
Last week one of our readers asked about deep grooves and flat edges. Another reader reached out to the Blue Note expert Larry Cohn for the answers. Last week we posted the answer about the Blue Note flat edge LPs. Here is Larry's response on the deep groove. Thanks to Larry for being so generous with the information and to Don-Lucky for reaching out.
"Put simply, there were special dies attached to the pressing machine, that held down the stampers for Side A and Side B during manufacturing.  These dies traditionally cut the deep groove into the label during a pressing.  In 1961 new dies were created that were more streamlined, holding down the stampers in place but putting the mere slight indentation into the label – what we see on modern pressings and call NO DG.
"These parts were interchangeable and compatible with the machines, so for the period
Tags: Blue Note Records
Dec 23, 2009 Blue Note, Collecting Tips, Questions
We have the full, complete, unassailable answer to all questions about Blue Note and the flat edge, thanks to the Blue Note expert Larry Cohn and Don-Lucky for reaching out to Larry. We will also be posting Larry's comments on the deep groove as well. Here's the information on the flat edge:
"Here's some information on the Edges/Rims. The change from Flat Rim (aka Flat Edge) to Safety Lip occurred in 1957. It was in response to new industry standards, occasioned by the popularity of automatic changers, whereby disks were routinely stacked and would fall on each other, the way we recall handling 45rpm disks. To lessen the damage to the LPs, the Safety Lip, also called a Groove Guard by one of the companies, was created at the edge of each side of the disk to keep the actual surfaces of the two disks from touching each other when they came into horizontal contact. It also protected the needle, since
Tags: Flat Edge
Sep 23, 2009 Blue Note, Collecting Tips
One of our Jazz Collector readers found a blog post somewhere on the Internet with some advice about collecting Blue Notes. It was written by Allan Songer. We don't know Allan personally, but we've dealt with him many times on eBay as both a buyer and a seller. We've found him to be quite reputable and a very nice guy. In any case, this is interesting information and we are taking the liberty (slight pun intended) of cleaning it up and reproducing it here for our Jazz Collector community, but we happily give Allan full credit. Allan, if you're out there and see this, please feel free to comment:
Tags: Blue Note Records, Collecting Tips
Aug 15, 2009 Blue Note, Collecting Tips, Questions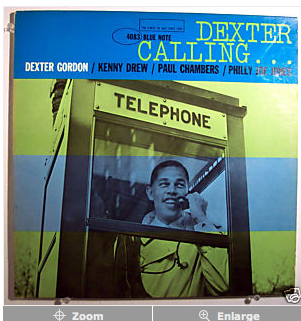 Someone asked us off-line if the LP Dexter Calling by Dexter Gordon, Blue Note 4083, is known to have pressings with the West 63rd Street label. There is often confusion about some of these titles right on the cusp of when the company moved and changed addresses. I've seen sellers on eBay list Sonny Rollins Volume 1, Blue Note 1542, as a West 63rd Street original when I have a Lexington Avenue copy on my shelf. Anyway, on the Dexter Record, the original pressing is New York USA. This question had come up a few years ago and the Blue Note expert Larry Cohn set us straight. The real question is on the Dexter Gordon LP Doin' Allright, Blue Note 4077. There actually are pressings of this with the West 63rd Street label, but there is no evidence to suggest that these are any earlier than the New York USA pressings. This album was issued at a time when Blue Note was in transition and they simply used both labels while they
Tags: Dexter Gordon
Jun 20, 2009 Collecting Tips, Riverside
This was posted by Michel as a comment on the earlier post "The Rise of the Second Pressing?" I'm repeating it here so it will be easier to find for anyone doing a search on Riverside. It is quite helpful, I think, for all of us to share this information, on Riverside as well as the other collectible labels.
Riverside label is complex, and tricky. Here are some points of interests:
From beginning to around 240-241-242 : "white label era" : labels are white with
Jan 27, 2009 Collecting Tips, Features, Uncategorized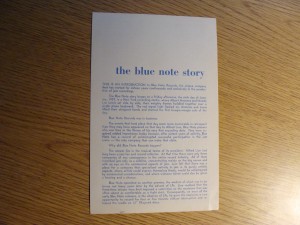 So the other day I was reorganizing my records, which I do every couple of months, and I took out an old Sidney Bechet record on Blue Note and inside the sleeve found this great little pamphlet, called The Blue Note Story. It's a four-pager on a coated paper and it clearly dates from 1955 — it talks about Blue Note starting in 1939 — 16 years ago. It is written by Leonard Feather and measures 8-1/2 inches high by 5-1/2 inches wide, which is basically a standard 8-1/2-by-11 sheet folded in half. I will post the entire contents of this pamphlet momentarily. How this rates as I collectible, I have no idea. I do know that, in my view, it's a helluva a lot more interesting than the Bechet record. I must have three or four dozen Lexington Avenue Blue Notes in my collection — including 10-inch and 12-inch LPs — and I've never found this pamphlet in any of the others.
So here's what it says: