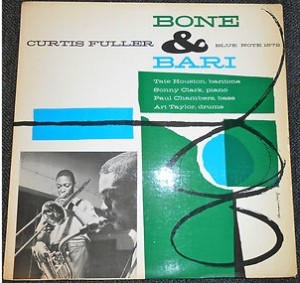 Sorry. I had promised more updates for the Jazz Collector Price Guide and then got distracted by the lovely holiday weekend up in The Berkshires. So here are a few more that will go into the Price Guide soon:
This is a new high point for this record: Curtis Fuller, Bone & Bari, Blue Note 1572. This was an original pressing with the West 63rd Street and NY 23 labels. The record was listed in M- condition and the cover was VG+. The final price was $1,789. I have an M- copy of this record. Would I sell it for $1,789? Hmmmm.
This one also sold for quite a hefty price: Ray Bryant Trio, Prestige 7098. The record and cover were only in VG+ condition, although the cover certainly looked nicer in the photo. Good lesson to be learned here: Spend some time on the photos if you are going to list on eBay, and make sure they are nice and clear. This record sold for $987.77.
Jerome Richardson, Roamin' with Richardson, New Jazz 8226. This was an original purple label with the deep grooves and the record and cover both seemed to be in M- condition. This one sold for $374. Frankly, I thought it would fetch a higher price.