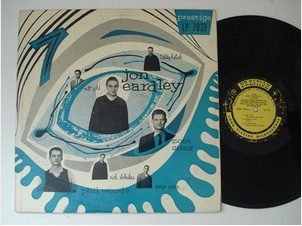 Wow, that last post drew quite a compelling discussion. I have yet to listen to that Ted Brown record, but it is definitely on the agenda. In the meantime, there are many interesting records currently for sale on eBay, including:
Jon Eardley Seven with Zoot Sims, Prestige 7033. This is an original New York yellow label pressing. The record is in VG+ condition and the cover is VG++. The start price is in the $300 range and, with nearly three days left in the auction, there are no bidders yet. We would expect this one to sell, but you never know. It is Prestige and not Blue Note, after all.
Kenny Dorham and the Jazz Prophets, ABC Paramount 122. This looks to be an original deep groove pressing. It's not simple to decipher the condition based on the seller's description, but I would guess that the record is between VG+ and VG++ and the cover is probably about the same. The start price for this one is $300 and, with less than two days left, there are no bidders.
Speaking of Kenny Dorham: