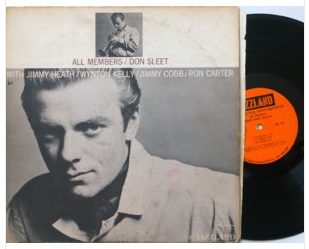 I'm spending some time this weekend updating the Jazz Collector Price Guide after a brief hiatus and, in going through the updates, I'll be putting in a few records that are a bit more obscure, either by artist or label, than the normal batch of Blue Notes and Prestiges. Here are a few worth pondering:
Don Sleet, All Members, Jazzland 45. This was an original orange label mono pressing. The record looked to be VG++ and the cover was listed as VG. The price was $94.
Mike Cuozzo with the Costa-Burke Trio, Jubilee 1027. This was an original pressing and the value is certainly aided by the presence of Eddie Costa. It was only in VG condition for the record and the cover and still sold for $108.50.
Bill Perkins, Just Friends, Pacific Jazz 401. This was an original pressing sold by the Jazz Record Center. It was in excellent condition — the words "immaculate" and "exceptional" were used in the description. It also benefitted from the presence of strong sidemen, in this case Art Pepper and Richie Kamuca. The price was $330.55.