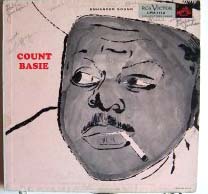 Quite a few mid-tier items up early on eBay today, so I am up early to post them. Here are a few:
We've been talking a lot about Andy Warhol covers on the site. Here's a chance to get one, perhaps at a bargain price because the seller didn't realize that the cover is by Warhol: Count Basie, RCA 1112. This is not in great shape, but it's only $1.99 and closing fairly soon. A few weeks ago, we recorded one of these in the Jazz Collector Price Guide for $161. 
The seller Tuneup Music has quite a large group of pretty nice records for sale this morning, including Blue Mitchell Big Six, Riverside 273. This is an original blue label pressing. The record is VG++ and the cover is VG+. The current price is $75. Also from this seller is a sealed copy of Larry Young, Into Something, Blue Note 84187. This is already at $125. The challenge with a sealed record is not knowing whether it's an original label, so, personally, I'd be careful on this one. If you look at these records, you should click View Seller's Other Items because there's a lot more.