Archive for the 'Record Shows' Category
Oct 14, 2011 Record Shows
The annual WFMU Record Fair is coming up, for those of you in the New York Metro area or planning to visit the New York area. The dates of the show are October 28, 29 and 30 at the usual location, The Metropolitan Pavilion on West 19th Street.  I've gone to this show for many years, sometimes as a dealer, and it's definitely one of the better record shows anywhere, certainly the best in New York. You get jazz dealers from all over the country and they always bring some good stuff because they know there will be a lot of other dealers there, particularly some of the dealers from overseas. Last year I brought several original Blue Notes and Prestiges, doubles from my collection, and they were pretty much sold before the official opening of the show on Friday evening. If you're going to go and if you're really seeking the heavy duty records you should
Tags: WFMU Record Fair
May 13, 2011 Record Shows
If you're in the New York Metropolitan area at the end of June you might want to head over to the Jazz Record Collector's Bash in Iselin, New Jersey. This is a two-day event, June 24 and 25, and there are dealers with records for sale and vintage video presentations. Last year there were 36 dealers on the first day, according to Art Zimmerman, who runs the event. This event has been going on annually for 37 years, believe it or not, and there's a history on the Web site at Jazz Record Collector's Bash. There was a time I used to go regularly, often looking for records, but a couple of times renting a table. I do remember a couple of very nice scores there when I was a dealer: I know I've told this story, but there was a guy who had a bunch of beautiful Prestige Swingville and Moodsville in unplayed mint condition and he was selling them for $5 apiece and I was able to get to him before anyone else, so I scooped up most of the good stuff. I also remember that he had a 10-inch Sonny Criss on Clef that I bought for $5 and eventually sold for $175. Thinking about it, I'd love to go again this year, but I fear my schedule may not permit it. If anyone does go, feel free to write a guest column for the rest of us at Jazz Collector.
Oct 15, 2010 Record Shows
For the past few weeks I have been cleaning and packing and pricing records in anticipation of the WFMU Record Fair, which will begin next Friday at the Metropolitan Pavilion in New York. I've had a table at this fair a couple of times before. I'm not a dealer, but I have hundreds of duplicates so I use this as a way to get rid of records that I either don't want to sell on eBay or, more likely, don't have time to sell on eBay. If you are in the New York area next weekend it's definitely worth a visit. I've always found nice jazz there — usually I buy more than I sell but, hey, I am a Jazz Collector, right? I'll also have some nice items to sell as well because I've bought a couple of collections in the past year and I haven't been selling on eBay in months, so it will all be fresh new inventory no one has ever seen. Perhaps even a couple of original Blue Notes. The fair starts with early admission on Friday at 4 p.m. and goes through Sunday evening. And if you're there, you better come say hi, right?
Tags: WFMU Record Fair
Oct 26, 2009 Features, Record Shows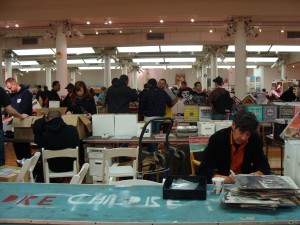 So I did go to the WFMU Record Fair on Sunday. I've attached a picture to prove it. I didn't buy any records. My goal with Record Shows has traditionally been to find bargains. You often get dealers who don't know anything about jazz vinyl, and sometimes they under-price the records, and sometimes they are just trying to get rid of records, and sometimes they are happy to bargain so they don't have to take the records home. There have also been many times where I've met collectors who really didn't know the value of their records, and they underpriced everything that they had. I've written here about the guy who had a bunch of original Blue Notes and Prestiges and just priced everything at $5, including a mint copy of
Tags: Tina Brooks, WFMU Record Fair
Oct 23, 2009 Record Shows
Just a reminder, the WFMU Record Fair starts today in New York and extends through Sunday. If you are in the area, it's definitely worth checking out. If you are attending and would like to share your experiences with your fellow Jazz Collectors, please feel free to comment on this post, or send me an email at al@jazzcollector.com and I can give you your own post. As for me, I'm heading out of town today but will be back in time to attend the Record Fair on Sunday. I won't have a table, but I'll be roaming around looking at records, and maybe even buying a few as well. I'll write a report on my findings sometime after the weekend.
Tags: WFMU Record Fair
Oct 12, 2009 Record Shows
Someone asked on a recent post if we will be attending the WFMU Record Fair this year. The Record Fair, which is the top record show in the New York Metropolitan area, is coming up in less than two weeks: It begins on Friday, October 23 and ends on Sunday, October 25. It's definitely worth attending: There are generally bargains to be found and also some nice collectibles at collectible prices. For the past couple of years we've taken a table but this year we will find ourselves in Washington DC for personal business on Friday and Saturday. Our plan is to show up on Sunday morning to do some shopping and socializing, with the expectation that anything worth purchasing will be long gone by the time we show up. Still, we'll be there and we'll certainly feel the rush of adrenaline our body automatically pumps in the presence of so much jazz and other vinyl.
Tags: WFMU Record Fair
Jul 23, 2009 Record Shows
Mark your calendars for October 23, 24 and 25. Those are the dates for the WFMU Record Fair in New York. This is probably the top record show in the New York Metropolitan area, attracting dealers from all over the country. We've been known to occasionally take a table: Actually we've done it twice, including last year for just one day. We haven't decided about this year as a seller, but we'll probably be there in some capacity and will keep you posted. If you're a seller and want to reserve a table, our advice is to do so fairly soon, since the room has a tendency to fill to capacity, particularly on the second day of the event. If you want more information, or are interested in signing up, you can just click here for a link to the WFMU web site.
Tags: WFMU Record Fair
Jun 24, 2009 Record Shows
Jazz Collector must be getting popular: I now find myself on a list getting various and sundry press releases on jazz and vinyl topics. I will pass on to you those that I think will be of interest, such as this: On Saturday, July 11, there will be a Record Fair in Philadelphia at the Institute of Contemporary Art. I can't vouch for the quality of collectibles, and I won't be able to attend myself, but it is always fun to go to a record show and hunt for bargains. This one opens at 9 a.m. and offers free admission after 11 a.m. For details, you can click here.