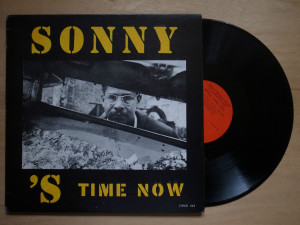 Well, I guess that the 'repurposed' copy of Peckin' Time that vinyl-house-uk were auctioning was cancelled before things got too out of control, but I suppose that as a seller they have raised a few red flags.
On to more pleasant matters and some of the records that Al and I have been (or are) watching:
First up is a fine Duke Jordan ten-inch on Swing that our friend bullsite2000 had up on the block. Though we've seen a copy go recently for nearly $3,000 this one, which was graded M- for the record and about a VG++ for the sleeve, went for 'only' just shy of $1,700 (I say 'only' because it was actually a better-presented auction). Still a lot of change for a record… the music has been issued on CD (which is what I have) and is quite nice, with Gene Ramey on bass and Lee Abrams on drums.
The same Italian seller also had a number of other nice ten-inch and twelve-inch LPs in the same auction, most of which did pretty well. I'm still surprised at the traction on Oliver Nelson's Straight Ahead (NJ 8255) in recent months. This copy went for over $400 in M-/M- condition; as I commented at one point, not being overly bowled over by the session I let it go for around $60 (VG+/VG+) several years ago at a friend's store where I consigned records. Someone was probably pretty happy. It's gone for nearly $1,000 in the recent past, though perhaps (hopefully?) that was an irregularity.
And in the active category:
Here's British trumpeter Henry Lowther and his rare Deram LP Child Song. I have the music on CD but would be excited to own the record (ran into a water-damaged copy years ago for cheap, but just couldn't handle the cover issues). This copy looks to be in nice VG++ condition all around, but will probably end up north of $300. Not bad when one considers what original Blue Note and Prestige LPs go for, but still a commitment. The same seller also has some other really nice-looking 60s and 70s jazz LPs for sale.
Our friend in Brooklyn, nobbyknucks, has a similarly solid (and big) list of 60s and 70s jazz on offer as well. I actually like this LP on Strata-East that bassist Bill Lee put together, though it's routinely fairly pricey. The vinyl grades at about a VG+ and M- for the sleeve, and with five days to go is already selling for $200 (which is in the ballpark for a clean copy these days).
And how about this classic? When you think about it, $300 for Sonny (Sunny) Murray's first LP as a leader, with a band featuring Albert Ayler, Don Cherry, Henry Grimes and Lewis Worrell, and released on LeRoi Jones' (Amiri Baraka's) own label Jihad, isn't a bad deal. Most copies I've encountered are in pretty rough shape, but the copy for sale here looks nice – about a VG++ all around. The version I have in the racks is a Japanese pressing (with the 7″) but it sure would be nice to have a clean original. The music is sublimely heavy.
Happy bidding, and happier listening!