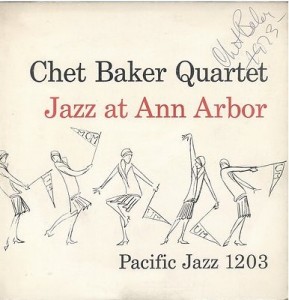 I was curious to see how some of those autographed records from the Jazz Record Center would do on eBay and the results are now in. There was definitely a strong demand.
Chet Baker Quartet, Jazz at Ann Arbor, Pacific Jazz 1203. This was an original pressing with a Chet Baker autograph on the cover, signed and dated from 1973. The record looked to be in M- condition and the cover was probably VG+. The price was $461.
There were several LPs autographed by Miles Davis in the auction, including: Miles Davis, In Person, Saturday Night at the Blackhawk, Columbia 8470. This was an original stereo pressing with the six-eye logo and it was in M- condition all around: In fact, it was described as being in "amazing" condition. It was signed on the back by Miles in red ink. It sold for $566. Also, Miles Davis, Bags Groove, Prestige 7109. This was a later pressing with the blue labels. This one was signed not just by Miles, but by Sonny Rollins as well. It looked to be in VG++ or M- condition and it sold for $195.50. If I had this cover, I'd get rid of the blue-label record and replace it with one with yellow labels, even a New Jersey yellow label. It would just feel better to look at the cover knowing there was a yellow-label pressing inside. Just part of my own insanity, I guess.