A Jazz Master Class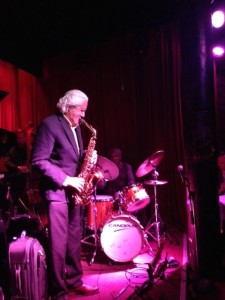 So last night I had a blast seeing some great live jazz. This is the story:
I was planning to go to dinner and a movie with The Lovely Mrs. JC when I sat down at the kitchen table at about 4:30 p.m. to do The New York Times crossword, which is always a challenge on Friday. I was able to get it done fairly quickly and decided to swing over to the listings to double check on the time of the movie. While there, I figured I would look and see what was doing on the jazz scene, not that I go to live jazz so frequently these days. I usually tell people I don't go as often because most of the artists I would prefer to see are dead, but that is probably just a lame excuse for the reality that I am still working hard, still getting older and don't stay out as late as I used to in my halcyon years. Still, there is some unfortunate truth to my rationale in that I much prefer seeing and listening to the artists and music that we write about here at Jazz Collector.  And there are, unfortunately, very few of them left to actually see.

So I swung over to the jazz listings in The New York Times with very low expectations. Who would I actually want to see? The first name that popped into my head was Gary Bartz, who I've written about here before. To my great surprise, there it was, the third listing under Jazz: Bartz, Willis, Williams & Foster, Friday and Saturday night at a club called Smoke. I am embarrassed to say that I had never been to Smoke even though it is literally three subway stops from my apartment in Manhattan. And, after spotting the listing I quickly turned to The Lovely Mrs. JC and asked her how she would feel about abandoning our movie plans and going to see some live jazz that I thought had the chance of being quite interesting and exciting. Of course, she said, that sounds great, and I called Smoke to make a reservation for dinner and the early set, which was to begin at 7 p.m.
We arrived at the club at around 6:30 and it was not very crowded at all. It is quite a nice club, set up for a nice listening experience with a small stage at the back and all the seats, as well as the bar, arranged to have clear views of the musicians. The stage barely had room for the Steinway piano and drum set, which I kind of liked: Intimate for both the musicians and the audience. We were seated at a table that was quite close to the stage, at my request. I recognized Bartz right away because he is quite distinctive and distinguished looking and then a bit later I saw Al Foster, who I had seen many, many times playing with Sonny Rollins and Dexter Gordon back in the 1970s.
We ordered drinks and dinner and I mentioned to The Lovely Mrs. JC that I hoped they would play in a straight-ahead style and perhaps focus on standards. Perhaps that makes me a bit square and retro these days, but it is the music that I love. And with this group of world-class musicians – Bartz on alto and soprano; Foster on drums; Larry Willis on piano, and Buster Williams on bass – I had high hopes that if they did play in the idiom that I love, then it would be quite a rare treat. The stereo system in Smoke was playing some great Sonny Rollins and Clifford Brown when the musicians arrived at the small stage and began their preparations. There were probably about 25 people in the club, half at the bar and half at the tables. We were closest to the stage at this point and when Bartz looked up I was right in front of him and he gave me a warm greeting, probably because I had a huge smile on my face in anticipation.
Then the music began and to my pleasure the first song was a standard, "I Wish I Knew,"  which I knew mostly from the John Coltrane Ballads album, but also from a bunch of other artists, notably Bill Evans on the Riverside album Explorations. Bartz started on soprano and eventually moved to alto. They followed with "All of You," then a lovely ballad by McCoy Tyner called "Search for Peace," then "Star Eyes" and finally a blues-oriented number to close the set.
It was like watching a master class in jazz performance and improvisation. What was striking was how carefully they all listened to one another and how the four of them moved together as one, whether it was to bring up the energy, or slow it down, or to add little variations, such as a nod to "Cheek to Cheek" during Star Eyes or "Moose the Mooche" during the final blues number. The whole set was a highlight and it would be unfair to single out any of the musicians because they were all absolutely great. I've always loved Foster and seeing him reminded me of Max Roach, the way he could somehow carry the melody into the drum solo and make it sound so alive. Willis and Williams were equally great, soloing and comping with ingenuity and skill. Bartz was masterful, particularly for Star Eyes when he was fully warmed up and absolutely wailing.
While the club wasn't crowded for the first set, the audience was fully into it and you could see that their energy helped to inspire the musicians. By the time the set was over, there was a line to get in and it seemed as if the second set would be sold out. We thought of asking to stay for one more set, but we figured discretion would be the better part of valor. For those of you among the Jazz Collector audience who happen to be in New York this weekend, I highly recommend that you head over to Smoke tonight to see some great live jazz. You can thank me tomorrow.