A Not-Quite Adventure In Jazz Collecting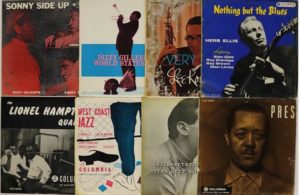 So I placed some bids on the Omega Auctions auction last week. And I struck out completely. There was nothing in the collection that really caught my eye, but I wanted to participate to see if I could perhaps buy something at a lowball price. Part of it was the fun of being in the hunt; part of it was to understand the experience to share with you all here at Jazz Collector. So I went through the entire auction list and marked about a dozen items and put in bids that were low but not completely unreasonably, particularly if the action was light. I wasn't able to do the auction live, so these were all online bids. If I had been able to do it live, who knows what would have happened. Here's a bit of a summary:
Lot 47: This was a collection of primarily 10-inch LPs in what looked to be fair condition. My main interest in this set was a copy of the Clifford Brown Sextet on French Vogue, but there were also a couple of nice Lee Konitz and Art Pepper records that would have been nice for my collection. I put in a bid of 75 British Pound Sterling (GBP) or roughly $96. The final price was 130 GBP.
Lot 49: This was a collection of Art Blakey LPs on various labels, but no Blue Notes. My main interest in this set was an original pressing of Hard Drive on the Bethlehem label, one of the few original Blakeys I don't own. The rest of the records were of some interest, but not enough to break the bank. I bid 60 GBP and the lot went for a surprisingly high price of 280 GBP. Looking at the lot again, it's hard to figure why the price was so steep, but somebody must have wanted at least one or two of those records pretty badly.
Lot 50: This was a group of British pressings of Verve LPs. As regular readers will note, I've developed a little thing for some of the European pressings over the past couple of years, more so for the Esquire/Prestiges rather than the Verves, but I do have the European pressings now isolated in my collection and, once I went that route, the itch to fill in gaps become quite a bit more intense. Anyway, my main interest in this was a UK pressing of The Swinging Guitar of Tal Farlow, which is a particular favorite of mine. I bid 45 GBP, but it sold for 95.
Lot 52 and Lot 53: I'll group these together because they are very similar to one another, and similar to Lot 50. They are UK issues of Verve LPs.  Lot 52 had Sonny Side Up (Dizzy, Rollins and Stitt), some nice Getz, Pres and a Ray Ellis LP featuring Getz with a different cover than the U.S. pressing. What can I say, it caught my eye. I bid 45 GBP and it sold for 90. Lot 53 also had some Getz, but nothing great. I threw in a bid of 30 GBP figuring it might not interest anyone else either and I might be able to get it cheap. It sold for 80 GBP.
Lot 89: This was also a set of Verves, but original U.S. pressings. Looking at this list now, I can't understand why I bid on it, since I own every one of the records and probably in better condition than the ones listed here. You know how it is, you see records, you see covers and you covet them. Period. And, when you're doing an auction like this, the old obsessiveness takes over and you just want to own. Period. Anyway, I bid a modest 50 GBP on this and it sold for 70 GBP, which was as close as I came on winning any of these.
Lot 126: This one fetched the highest price of all the ones on which I bid. It was a collection of U.K. 10-inch LPs. In addition to having a newly found soft spot for U.K. pressings, I have a much older and more well defined soft spot for 10-inch LPs as well. The ones that caught my eye in this one were Bird and Diz, Pres with Oscar Peterson and another Tal Farlow that was never issued in 10-inch format in the U.S. I tried to steal this one at 40 GBP, figuring there wouldn't be a big demand for 10-inch U.K. pressings of U.S. originals, but I was wrong. This one sold for 300 GBP.
Lots 161 and 162: Back to my newfound passion for Esquire Prestiges. Lot 161 was five of these, including Trombone by Three with a cool cover, and Benny Golson's Getting' With It. They all looked cool to me and I pictured them sitting nicely in that new row of European pressings in my collection. I bid 40 GBP, really lowball I guess, and they sold for 85 GBP, and perhaps I should have bid higher. Lot 162 was in a similar vein, but probably a little more attractive to me. Three Esquires – Jammin with Gene, Three Trumpets and Early Art. I liked the covers on all of these. I bid 80 GPB and it sold for 85 GBP, just like Lot 161, and I probably should have bid higher.
Finally there was lot 257. I figured it was right near the end of the auction – there were 260 lots altogether – and perhaps bidders would be weary and/or out of money and I could get a bargain. This was an eclectic mix, all U.K. pressings of U.S. records. What caught my eye? I think it was LaVern Baker Sings Bessie Smith, even though I own two original black label pressings; Benny Golson and the Philadelphians; Trumpets All Out, another Esquire/Prestige; and Grand Stan on the Bethlehem label, even though I already own one in much better condition. Logic never rules the day when buying jazz vinyl. I bid 40 GBP and it sold for 100 GBP.
All in all it was a fun experience, throwing out bids, checking the results to see if I'd won, comparing my bids to the final prices and thinking about whether I should have bid more. In the end, I think most of the lots went for below market value – whatever that is – so collectors were able to add to their collections and/or dealers were able to add to their inventory and probably make a few bucks. I would have liked to have won one or two of these, just for the thrill of receiving that box in the mail and checking the contents, but I'm sure there will be plenty more opportunities for that.