An Evening of Jazz History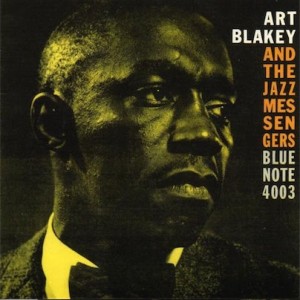 I had a fun-filled evening listening to some lovely jazz vinyl last night. I had planned to stay up in the country to get some writing done – in the real world I get paid to write about information technology and business. For those of you who didn't know that, now you do. I've had an inordinate amount of assignments lately, which is why I've been blogging less often than usual on Jazz Collector. When you're writing 1,500 to 2,000 words every single day about some esoteric business or technology issue, sometimes the last thing you want to do is sit at the computer and compose something new. At least, that's how it is for me. Anyway, I was expecting to experience the first tastes of spring up here in The Berkshires, but instead we've had a couple of days of snow and quite frosty temperatures. There must be 5-6 inches of snow on the ground. No spring at all. Anyway, I am up here alone together with my dog Marty, which means I can play whatever music I want at whatever volume I want. Marty is very considerate that way. I have a very nice system  with a Linn Sondek turntable, Macintosh integrated amp and Wilson Sophia speakers. I also have about 6,000 records to choose from and, for last night, there was the availability of fresh stimulants for the mind, which never hurts either.
For some reason I decided to start with classic Louis Armstrong. As you all know, my taste runs more modern. I wanted to try this because I know it's great, yet it's not something I listen to very often. I tried the Columbia Hot Seven with Potato Head Blues and Wild Man Blues. In the movie Manhattan, the Woody Allen character is listing all the things that make life worth living and one of them is Potato Head Blues. So I put that on and, yes, it is brilliant. You can listen to this and basically hear the invention of jazz. Armstrong had such modern phrasing he was light years ahead of his contemporaries, or so it would seem until Johnny Dodds comes in with a clarinet solo that actually sounds like an extension of Louis.
Anyway, I'm not looking to review the music, just share my experience. As great as the music sounded, I didn't fully get into it after the first three tracks so I decided to get into my sweet spot and I put on one of the great Blue Notes, Art Blakey, Blue Note 4003, which I always think of as "Moanin'." I've listened to this album thousands of times – no exaggeration – bit this was nice, blasting it loud with no neighbors or anyone else to worry about. Three things struck me: Lee Morgan's incredible trumpet solo; Benny Golson really sounded very Trane-like here and was very underrated as a player; the Bobby Timmons solo is ridiculous. Perfect, soulful and brilliant.
I decided to explore Timmons and see if he was always this good, so I went to Cannonball Adderley Quintet in San Francisco, the side with This Here and Spontaneous Combustion. The answer is, yes. Brilliant again. Plus, the band is just incredible. You want to hear some great, great jazz from the era, put on This Here. It's also super well recorded, so blasting away on my nice stereo system — well it sounded live. It also put me in a soulful, kind of R&B groove and I went to Louis Jordan, and again I was blown away. Another genius who sounded so modern it's hard to believe he was making these records in the 1940s. If you want to check one thing out, look for Saturday Night Fish Fry and you can hear the roots of rock and roll, only better. I was in quite a groove now and wanted to get modern again and went to another Blue Note, this time Sonny's Crib. More brilliance. Great Coltrane, more great piano, another solid group.
And that was my evening. How was yours?