Another Adventure in Jazz Collecting: A Bronx Tale, Part One
OK, I have another story. This one starts, as usual, with an e-mail. The first e-mail came back in April 2015. I replied, but nothing ever came of it. Then, just a few weeks ago, there was another e-mail from the same person, totally of the blue. This was the text, verbatim:
"Top jazz artist's
Cotrane , gerald wilson ,st you'd, ray brown, jimmy smith, felonious monk, Eddie Harris , carmen macrae, jazz laboratorylaboratory, gene Simmons, Dexter gordon , stan gets ext.
Give me good price I'll sell.
'Miles Davis,chico hamilton about 80 or more."
I wrote back, asking for more detail and perhaps some pictures. The first photo came back and it didn't show much at all. No valuable Coltrane, Stan Gets, or Felonious Monk in the picture. Instead there were a lot of records by Gloria Lynne. I wrote back asking for more details and pictures of the Coltrane or Dexter Gordon or Miles Davis. A few more pictures came back. This was the first one: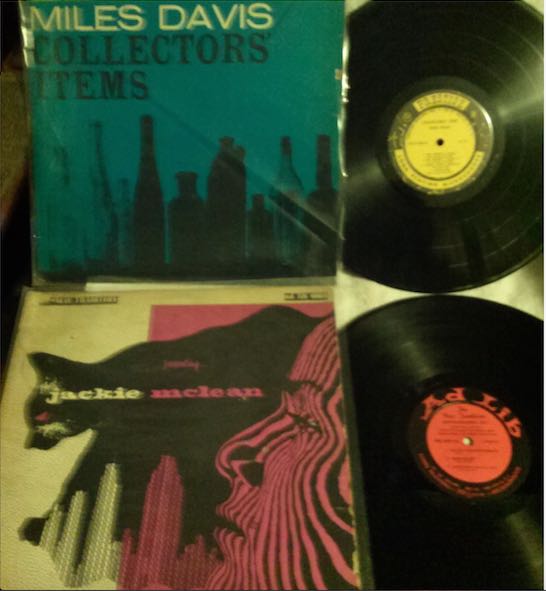 Obviously, my correspondent had done a little homework between the first few emails and this one. So, of course it is Jackie McLean, The New Tradition on Ad Lib, and yes my interest was piqued. Who would have thought, one of the rarest of the rare jazz LPs among a collection previously highlighted by titles such as Gloria Lynne Intimate Moments and Miss Lorraine Ellison Heart And Soul?
And then there was also the Miles record and additional pictures that showed Dexter Blows Hot and Cool on Dootone and Frank Morgan on GNP. So I wrote back and my first question was: "Where are the records located?" The answer: "The Bronx." Ahh, very convenient for an Upper West Sider like me. So I placed a phone call on Super Bowl Sunday, Feb. 7, and found myself chatting with a very nice, friendly woman – who also happened to be in church. I asked a few more questions about the records. She said they were all in excellent condition and she was hoping to sell them all at once, for a fair price. I offered to come over that day, but she said later in the week would be better. So I adjusted my work schedule and arranged to go out and see the records in the Bronx on Friday, Feb. 12. I took a bunch of cash out of the bank, put a couple of record boxes in the car, and headed up the West Side Highway towards the Cross Bronx Expressway and the Grand Concourse by Yankee Stadium.
The woman was very nice and friendly. She had an accent, perhaps West Indian, but I am pretty much clueless when it comes to things like that. About jazz records I am much better informed. I took off my coat and she started handing me records in small piles. I could see that the overall condition of the records was not as promised. Quite a few of them had water damage on the covers. I began putting them into two piles: One pile was records that I would have some interest in; the other pile was records of no interest. I went through all of the records she handed me, just waiting for the Jackie McLean. But it never came out. Neither did the Dexter Gordon or the Frank Morgan.
So I asked, very casually: "There was a picture of a Jackie McLean record that you sent me. Do you still have that?" "Oh yes," she said. "That's in the other room." She had pulled the Jackie record out and wasn't going to show it to me. I asked about the Dexter and Frank Morgan records. They were also in the other room. I asked to see them. She went to get them. The Jackie was one of the records that had water damage, unfortunately. The Dexter was also not in great shape and the vinyl was black and not red, so it wasn't an original pressing. I put them on top of the pile of records that I would be interested in, which was now about 50 records total.
In addition to the Jackie, Dexter and Morgan records, there was a copy of Cannonball Adderley, Somethin' Else; a couple of Jimmy Smiths on Blue Note; Horace Silver Further Explorations, and Kenny Drew Walkin' and Talkin' on Jazz West. Unfortunately, they all had some kind of cover damage. As for the vinyl, very few of them had sleeves, they were all pretty dirty and the lighting in the apartment wasn't all that great. I couldn't really tell how bad they were — or how good — but I could tell that they weren't clean and none of them would be approaching mint minus or even VG++ condition. Clearly, this was not the score that I had hoped for, but there it was, the Jackie McLean record on Ad Lib and it was within my grasp and it was a record that would fill one of the biggest holes in my collection.
Was it in perfect shape? No. Was it in decent shape? I wasn't sure. By this point I was looking at the record through rose-tinted glasses and all I knew at the time was this: It was Jackie McLean The New Tradition on Ad-Lib. I had a copy once many years ago and sold it. Now was my chance to get another copy and fill the gap in my collection. Condition be damned, I wanted this record.
What happened next? Stay tuned for Part Two tomorrow.