Another Adventure in Jazz Collecting: A Bronx Tale, Part Two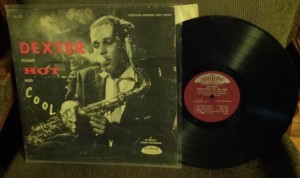 So, back in the Bronx, I had a pile of about 50 records. Of the records in that pile there were probably about 10 that I really wanted. But I sensed that the woman wanted to get rid of records and taking more seemed like the right approach. So I made an offer that I thought was fair, considering the condition of the records and the reality that many of the records in the pile were relatively worthless. The offer came out of my mouth and the words were still just hanging in the air when I could see the woman physically recoil as if she had just swallowed a platter full of insects. She repeated the number I had just said and gasped: "The Jackie McLean record alone is worth more than that!" Which, to be fair, would have been true if the Jackie McLean record was in excellent condition. But it wasn't. Then she started going through a list that she had compiled with values for some of the key records. But there was clearly a disconnect. All of the values she had compiled were for records in M- condition. The records in the pile were not in M- condition. None of them.
I won't bore you with the details of our back and forth, but it went on for a little while and I was ready to leave without any records. Finally I pulled out the 10 records I really wanted and made her a higher offer. She countered and I said I would pay the higher price but I'd want a couple more records. She wasn't happy, but she eventually made the deal. I walked out of there with 13 records, including the Jackie McLean on Ad Lib; Dexter Gordon on Dootone; Frank Morgan on GNP; Horace Silver Further Explorations; Cannonball Adderley Somethin;' Else; Tommy Potter on East West, and Kenny Drew on Jazz West. Those seven records were the highlight of the score. I felt like I had overpaid for the records, she felt like she got ripped off. The reality was that the price was probably fair, but I can't say either one of us was pleased — although I was probably happier than she was because, at long last, I had the Jackie McLean on Ad Lib back in my collection.
I took the records, got in my car and drove home. I was supposed to be working in the afternoon, but it was too difficult to work with the records sitting there on my desk, particularly because they all needed to be cleaned and they needed inner sleeves and outer sleeves. I just couldn't look at them as they were, so I put my real work aside, pulled out my VPI record cleaner, took out a bunch of record sleeves from the closet and began to work on the records. I knew that I hadn't looked at them carefully when I was at the apartment in the Bronx. The adrenaline rush of having the Jackie McLean Ad Lib in my hands had clouded all of my senses (and perhaps even my judgment). I wanted to walk out of that apartment with that record and everything else be damned. Now that I was home I could examine the records – my records – much more dispassionately.
The process of cleaning and prepping the records was, unfortunately, a disappointment. Oftentimes, when you clean a record, you discover that it is in much better condition that you had hoped. I recall buying a collection in Trenton, New Jersey, several years ago. Many of the records were covered in filth. But when I cleaned them, there were no scratches, no marks, no hairline anythings. These records from the Bronx were the opposite. Once I cleaned them, I could for the first team see the marks and, in some cases, feel them. And the covers were also worse than expected. The woman had told me that she had put the records in storage at one point, but there was a leak and some of the records suffered from water damage. Unfortunately, this applied to most of the records in my hands. In the end I wound up grading each record and estimating its retail value. The Jackie record was VG for the vinyl, VG- for the cover; the Cannonball was VG/VG; the Kenny Drew was VG/VG-; the Dexter was not an original and was VG/VG. When I added up the total retail value of the records, the final total was more than I had actually paid for the records, but not so much higher that if I wanted to sell them I would have actually made much of a profit. The reality, however, is that I would never want to sell any of these records on eBay because of the condition. Way too much potential for aggravation and dissatisfied customers.
That wasn't my biggest issue with the records. I had bought some of these records for my collection, particularly the Jackie and the Dexter. But in the past 15 years or so, I have done a nice job of cleaning up my collection and getting rid of and upgrading records in poor condition. At this point, I only have a couple of records in less than VG+ condition and most of my records are closer to M- and VG++. I also dislike having records with water damage, particularly when it really affects the look and feel of the record. So now I had the Jackie and Dexter records ostensibly to add to my collection, but they were not in good shape. Every time I would look at them on my shelves, I would be reminded that they were not in good shape. I was disappointed – so much so that I didn't even bother putting any of the records on the turntable. Feeling the way I felt, the last think I wanted to hear was surface noise or a skip on Jackie McLean's the New Tradition.
That evening The Lovely Mrs. JC came home from work and wanted to see the records. By now, they had all been cleaned up and were in proper sleeves. I showed her the Jackie record first. "You realize the cover is damaged, don't you?" she said. Umm, yes. And then she looked at the rest of the records and didn't say anything. "What do you think?" she asked. She knew this was not the score that I had anticipated. "Well," I said, "I'm not all that pleased. I really wanted the Jackie record, and I got it, but I would be much happier if the condition was better."
And that's how we left it. I still didn't put any of the records on the turntable and I went to sleep a little disappointed that I'd expended all of that adrenaline and excitement but the payoff was a little blah. I got up on Saturday morning and began packing to go to The Berkshires for the weekend. We had our coats on and my hand was on the doorknob to leave the apartment when the phone rang. I stopped to pick it up. It was the woman from the Bronx. I recognized the accent.
"I'm sorry, Alan," she said. "I told my son that I sold the records and he was furious with me. I want to cancel the deal." It took a minute for this unexpected turn of events to settle in, but when I thought about it for a second, I was relieved. "Fine, no problem," I answered. "I'm going away for the weekend and we can make arrangements when I get back."
And so we did. She came to Manhattan from the Bronx on Tuesday. She gave me my money back and I gave her back the records. I kept the sleeves on and even put a sticker on each record giving my assessment of its value, which is what I do for most of the valuable records in my collection. Who knows what will happen to the records next. My guess is that she had seller's remorse and will try to sell them to someone else for a higher price. My feeling? Go for it. In the end I was happy to get rid of the records, even the Jackie. I imagine there's a moral in this story somewhere, but I'm not going to search for it. Nor am I going to search on eBay for a mint copy of Jackie McLean, The New Tradition, on Ad Lib. If it is meant to be, it will happen. If not, so be it. It is, after all, just a record.