Another Adventure in Jazz Collecting, Baltimore Part 1
On Thursday, Nov. 14, 2103, I received the following e-mail:
"Hello Al,
When our father passed away, my siblings and I inherited our Uncle Bruce's jazz record collection. It's roughly 1,000 records and spans from the mid '50s to the mid '70s. Apparently our uncle was a serious collector, the rumor is that we only got part of the collection. However, the part we have isn't bad from what I can tell, because it includes the following Artists/Titles that currently appear in articles on your site: John Coltrane/Blue Train; John Coltrane/Soultrane; Wynton Kelly/Kelly at Midnight; Hank Mobley/Mobley's 2nd Message; Sonny Rollins/Saxophone Colossus.
We are selling the entire collection. Please let me know if you're interested or have any suggestions about the best/most efficient way to reach the target audience.
Best regards,
Rob (Baltimore, MD)"
I was, of course, intrigued. Intrigued, but somewhat skeptical as well. I get notes quite often from people looking for advice on how to sell their collections, but typically the records are not necessarily of the collectible era (lots of swing era stuff), or they have been picked through by dealers, or they have been stored in a musky basement and are smelly and sticky and moldy. So I've learned not to get excited by notes such as this. But I was intrigued and I am always happy to help and to potentially find a nice home for a collection that someone obviously cherished. And if that home happens to be mine, well then,  so much the better.
So I wrote back to Rob the next day as follows:
"Hey Rob. Thanks for reaching out. I'd be interested. Do you have a list of the records? Are they in good condition? Any sense of how much you are looking to get for the whole collection? Are the records in Baltimore? If it turns out that the collection won't work for me, I'd be happy to give you advice on what to do with it. With jazz records, the devil is definitely in the details. The original pressing of Blue Train or Saxophone Colossus can be worth a lot of money, but it it's not an original the value diminishes significantly."
The next day, Saturday, Nov. 16, Rob wrote back:
"Thanks for responding, Al. Yes, I do have a "working" list. It's not finalized yet, but it's pretty close. For the most part, I'd say the records are in excellent condition. The only thing that may prove to be an issue is my uncle's decision to write the purchase date on the back in the upper left hand corner of many of the albums. The records are here in Baltimore.
I've attached a copy of the current record list along with pictures of the previously mentioned albums. Please let me know your thoughts or if you have any other questions.
Much appreciated,
Rob"
I looked at the pictures first. There were blurry pictures of Soultrane, Blue Train, Mobley's Second Message, Saxophone Colossus and Kelly at Midnight. Here's a sample: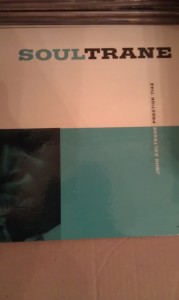 I couldn't tell anything from the picture, except that it wasn't a later reissue. But was it a yellow label, was it a blue label? Was it clean? How bad was the writing on the back?
Then I opened the excel file with the listing of the records. The first 16 records listed on the spreadsheet were 101 Strings. Huh? What's that? Then I came upon the first of the jazz records, two by Pepper Adams, Critics Choice on World Pacific and Pepper Adams Quintet on Mode. We were in alphabetical order. Then came the Adderleys, pretty much all of Riversides and, boom, the first Blue Note, Something Else. Okay, we have possibilities. The next one that caught my eye was Toshiko Akiyoshi on Storyville. Hmm, that's a rare one that I've never owned. Then a bunch of various artists records, a whole lot of Count Basie, a Burt Bachrach, a bunch of Tony Bennetts, and my adrenaline was starting to fade. Then came Clifford Brown, Kenny Burrell, Donald Byrd, Paul Chambers, John Coltrane and Miles Davis, and the collection kept getting more and more interesting This was a small but fairly formidable collection—if, of course, the records were original pressings and if they were in nice condition.
There was only one way to find out. It was time to talk to Rob. I sent him a follow-up note and we agreed to chat the next morning, Sunday, Nov. 17, at 10:30 a.m.
What happened next? Stay tuned for Part 2 tomorrow.