Another Adventure, Part 7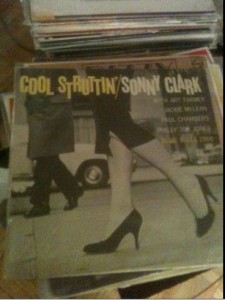 It wasn't until early January that the second batch of records arrived. As I did with the first batch, I recorded the unveiling for posterity. This is what I wrote:
The final batch of records has arrived. The guy from the shipping department in the building just brought them up on a hand truck. Three boxes – those banker's box file boxes, the brown and white ones you get in Stapes. They've never been good for storing or transporting records, but hopefully this batch made it through safely. Opening the first box. There's a sheath of what looks to be sheepskin or some kind of cotton on top. Nice. The records seem safe. On top, an Errol Garner record. No big deal. Going through the records. Each has the same type of soft plastic cover: I have a feeling these were the original covers on the records. In the 1950s and 1960s they didn't use what we have come to know as shrink wrap, but they used a cover and it fit loosely over the records, just like these. They certainly seem old enough, and dirty enough, and covered with enough dust to have been original covers from the 1950s. No matter. Getting through the box, one by one, record by record.
And, in the first box, here they are. First the Dexter Gordon Blue Notes. Then Lou Donaldson. Johnny Griffin. And here it is. Sonny Clark, Cool Struttin. Taste it, smell it, touch it. Mine, in my apartment, in my hands. And open it. Original label. Mint condition. Sweeeeeet. And now. Dizzy Reece, Soundin' Off. The plastic sleeve is filthy. I have to take it off, original or not. The label. Original. The record. Mint. Sweeeet again. Lou Donaldson, Light Foot. Original label, no deep grooves. Ah Well. Record is Mint. I don't have this one in my collection. Oh, that's right. I do have it in my collection now. This is my record. Grant Green. Two originals, Green Streen and Grant's First Stand. Get rid of these filthy covers. Records and covers: Mint and original, two of my favorite words. Interesting – all of these records all seem to have the original Blue Note inner sleeve. Bolsters my theory about the plastic covers being original.
Clifford Brown Memorial. Second pressing with the West 63rd label. I knew that. Still, the record and cover are mint. Actually, the back cover has some writing. VG++. Art Blakey, Blue Note 1508. Also a second press, West 63rd. I knew that.  Same as Clifford. Record is mint, cover has some writing on the back. Lou Donaldson, Here 'Tis, New York USA, second pressing, with the ear and RVG in the dead wax. I don't have an early pressing of this. Now I do. Introducing Johnny Griffin. West 63rd. Mint. What will I do? I have a Lexington Avenue pressing of this in VG condition. My guess? I'll keep both. Milt Jackson, Lexington 1509. This one has a Lex on one side and West 63rd on the other. Still a nice upgrade from the one in my collection, which is a NY USA pressing, of all things. Sonny Rollins Volume 1. West 63rd.  Not original, but a second press in very nice shape. I'm sure I'll keep it. And probably even listen to it.
Here it is again. Cool Struttin'. There is a one-inch split on the spine and a couple of small creases on the cover. I'd grade it a safe VG++.  The record needs to be cleaned. It has a couple of small marks, probably from being put in and out of the jacket. It looks like it's never been played. I'd rate it at safe VG++, but I'll play it to make sure.
Keep going. Lou Donaldson, Blues Walk. Original. Beautiful cover. A touch of writing on the back. Original label, original pressing. VG++ for the record and the cover. Sweet. Definite improvement over the one in my collection. Donald Byrd, The Cat Walk. Original pressing in M- condition. Cover has some slight water damage, VG+. Dexter Gordon, Go. One of my favorite Blue Notes. Beautiful original in Mint condition, maybe VG++ for the cover. Someone wrote little bits on a lot of these. Dexter Calling. Another favorite. This one is definitely unplayed. The inner sleeve was on the side. Small writing on the front, but immaculate record. Yes, all of these are mono pressings, most of them originals. Ahhhh.
Went through the rest of the records, called my friend Danny, just went to post on Jazz Collector. Been busy. I didn't necessarily want to post about the collection but . . . as soon as I logged onto eBay, the first record I saw was a copy of Meet Oliver Nelson on New Jazz and I just got off the phone with Danny and mentioned that record to him because it was part of this batch. In near mint condition, an original pressing. The copy on eBay just sold for $157. 50. This was among a few nice original non-Blue Note pressings, but the bulk of the value in the collection is definitely the Blue Notes mentioned above and the ones from the previous batch. In addition to the Oliver Nelson, there is a nice New Jersey pressing of Sonny Rollins Tenor Madness; a nice original black-label pressing of John Lewis and Sacha  Distel, Afternoon in Paris; a couple of original Stan Getz LPs, a Sonny Stitt on Roost, Lee Konitz on Verve, a few nice Pacific Jazz records, including an original Chet Baker. The rest of the records are mostly pressings from England and South America. A couple of these are quite cool as well, including an original Esquire Miles Davis and the Modern Jazz Giants.
Of course there is the question of what I will do with all these records, probably 180 or so in all, but that's for another day. Now, I shall bask in the glow of owning these gems and I shall sit on my sofa and stare at them for awhile, letting it all sink in.
What happened next? Stay tuned for Part 8