Chasing Trane 2: A Love Supreme Trumps Hate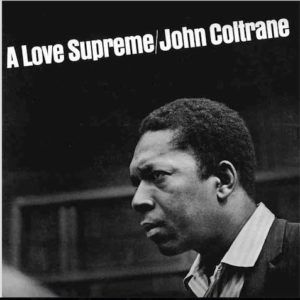 By Al Perlman
Editor and Publisher, Jazz Collector
To my regular Jazz Collector readers, I promise I will be back with a normal post on Tuesday. In the meantime, I ask for one final indulgence for this one final post so I can close the book on this Chasing Trane diversion.
First of all, I would like to let you all know that I am doing well. Since the election I have not turned on the television news or read any news or opinions in any periodical — print or online. It has been a blessing. My head is not clogged with useless information, my guts are not wrenched with fear, my vision is not clouded with images of people who spew hatred, vitriol and divisiveness.
Even better, I have begun to channel the spiritual awareness that the Coltrane documentary helped to inspire. I am walking down the street with a new energy that seems to be apparent because people are smiling at me and talking to me as never before. I am chatting with people in the elevator. I've reached out to friends that I have been estranged from for years. Plus, with my head cleared, I've had a burst of creative energy. The previous post on Chasing Trane is just one example. I am also doing great work for my clients and I am doing more writing on the side.
In fact, my attitude and energy have made me so much more engaged that some of the people closest to me are a little worried that I may be a bit manic. They are concerned I may be headed for a fall. But I asked my wife, who is a shrink, and I asked my shrink, who is a shrink, and I asked my son, who could be a shrink, and none of them is worried, so neither am I.
I find it is helpful to spend time doing things I love to do, such as going to the theater or being with friends and family. One of the other things I love to do is write. Most of you probably don't know what I do for a living and why it keeps me from writing posts more frequently for Jazz Collector. In my work, I write, for hire, about how organizations are leveraging technology to change their businesses and change the world. It's an interesting topic and it is rewarding because it gives me an understanding of the vast possibilities of what technology can do for all of us. The fact that I am a true technophobe myself, has, surprisingly, never negatively affected my ability to do this work, which I have been doing in various forms since 1977.
My current business is called New Reality Media, which is just a two-man shop that I started nearly nine years ago with a wonderful and talented friend named Mike Perkowski, who commented on the previous post. I spend most of my days writing. But I don't normally get a chance to do creative writing, which is one of the reasons why the Coltrane article was so meaningful. It gave me the chance to really write, and it also gave me the chance to dig deep and explore and express my innermost feelings.
It has been, quite frankly, one of the most rewarding creative experiences of my life, and I've had quite a few. In addition to the wonderful comments on the Jazz Collector site, I've gotten at least an equal number of extremely warm, generous and caring emails from friends and family. I was also extremely gratified to see that the filmmaker John Scheinfeld not only saw this article, but also posted this lovely comment on Facebook:
One never quite knows how the world will embrace their artistic endeavors or what response it will generate. So, we were delighted to read this passionate and emotional essay from Al Perlman at Jazz Collector about seeing CHASING TRANE at DOC NYC.
I feel the same way as Scheinfeld. I put this essay out into the world not knowing what response it would generate and, here I am more than a week later, still basking in the afterglow. But I do realize it is time to move forward and see where the creative energy will take me to next. Before I completely move on, however, I want to take care of some housekeeping. First, let me reply to some of the specific comments on the Jazz Collector site:
To AbrasiveBeautiful and Daryl, I will fix your typos.
To my personal friends Steve, Myrna, Mike, Chris and Barbara, thanks for being there and supporting me in all my various endeavors.
To my son Michael's friend Charlie Thurston, thanks for all of your creative work that has inspired and uplifted me through the years.
To some of the regulars here, Abrasivebeautiful, Gregorythefish, banksofthecliff, RichDGMono, Adamski, Daryl, BillW, Fredrik and others, thanks for your comments and for your active participation in the Jazz Collector community.
To Clifford, thanks for commenting and for your regular contributions to Jazz Collector. I appreciate them tremendously, and I know many readers do because I monitor the site's traffic.
To Willem H, thanks for joining the commenters, and please feel free to continue participating.
To Keith Semerod, do I remember you! Are you kidding. When you sent me that original comment about seeing my articles 40-plus years ago in the Syracuse New Times, it was one of my favorite all-time moments in all the years of doing doing Jazz Collector. Thank you!
To Craig Holiday Haynes: Is your Dad Roy?
To Tessa Souter, thanks for reposting and tweeting.
To Brian Anderson, Steve Heckman and RL1856. Thanks for your thoughtful comments and the deep feelings behind them.
To Giovanni and Bill W, thanks for reminding me to get back to business.
To Danny, thanks for always being there and for being my partner and teacher in sharing this lifelong passion for jazz
And thanks to all the family and friends who reached out by email. I won't remember everyone, but thanks to Jim, Mitch, Joe, Amy, Mark, Yael, Ari, Jessie, Yocheved, Ludi, Tyler, Rachelle, Charise, Susan, Jules, Heidi, Hy, Elliot, Rony and everyone else who responded.
And thanks to the many new readers who came to Jazz Collector because they heard about this specific article. I imagine the non-jazz lovers won't stay for much longer, but hopefully the jazz lovers will. The site has been around for more than a dozen years, and we've posted many articles that may provide enjoyment and give you a deeper insight into jazz. The links below will take you to a few of my personal favorites. Enjoy.
The Complete Jazz Collector Bruce M. West Collection
An Old Jazz Collector Tribute to Charlie Parker
Confessions of a Vinyl Addict, Part 1
Finally, just so you all know I am really okay, here I am as of last night in my natural habitat.