Granz, Farlow & The American Recording Society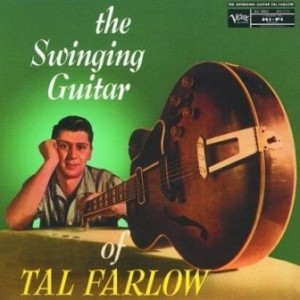 Here's a little tidbit that comes courtesy of my friend Dan Axelrod. Dan, as faithful readers of Jazz Collector know, was a great friend and protege of the guitar legend Tal Farlow. Dan sent me a note last week asking the following question: Why did Norman Granz farm out the first issue of The Swinging Guitar of Tal Farlow out to a record club? My first response was surprise. He did? I didn't know that. Turns out the first issue of this record — my favorite of all the Farlows — was issued under the auspices of American Recording Society. I've had a few records issued by ARS over the years and, if I recall properly, they didn't have hard covers. The ones I recall owning were Billie Holiday records, but I didn't keep them because I had the original Verves. I, of course, suggested to Dan that we post the question here at Jazz Collector, but before either of us got around to posting, he did some research and came up with the answer. Here it is:
Granz did the deal with ARS to try to expose jazz to a wider audience of non-jazz fans who had a record club subscription and might try out a jazz record. Apparently there were also some scholarship funds as well. At first he would issue unreleased masters to ARS that wouldn't compete with his Verve issues. Then he also issued some Verve titles, including the Swinging Guitar. The reason Dan asked was that he listened to the ARS recording and said the quality of the sound was far superior to the Verve issue. What does that mean? For me it's another item on the want list, looking for the ARS version of The Swinging Guitar so I can compare it to the original Verve pressing I have in my collection.