Guest Column: Adventures in Jazz Collecting, Atlanta Variety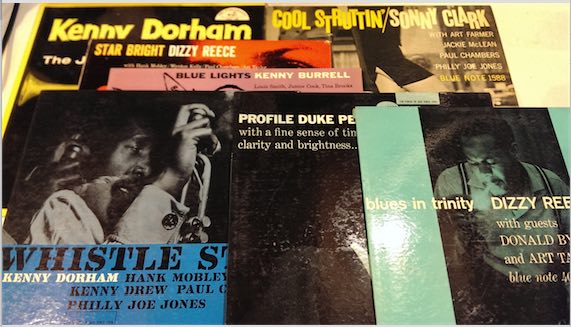 By Dave S.
"Honey, how much money do we have in our bank account? I want to buy some jazz records." That was what I asked my wife, the darling Mrs. JC-A, two weeks ago.
There was a rumor circulating around town that there was a pretty nice collection of records up for sale by a private seller. Seems he had spoken to all the record stores in the area. A few of them had been out to his house to inspect the collection, but no one was willing to either commit to what he was looking to get for the records or had turned him off. Imagine that. A record store employee with an attitude. A friend of a friend who worked at a local record store finally squeezed a phone number for the seller out of his boss at the store, when they also decided to pass. Over a thousand records in the collection, but no way for a record store to quickly get in and out of the transaction was the explanation. Atlanta is a mediocre jazz record town, with rock and southern blues (think the Allman Brothers) being the local taste. People like you and me are certainly the exception.
My jazz record buddy went out to look at the records and quickly called me with an update. Yes, the rumors were true. Some highly collectible items, some nice mid-range pieces, and a whole lot of just stuff. I asked him what he thought the seller wanted. He said he had offers of up to $7,500, but we might be able to get it for less than that. He called the seller back and said we were interested. He said to let him think about. Then the days started passing with no word back. We assumed he was shopping the collection one more time and we missed out. A week later, the seller called back and said could we do $6,700? I told my friend to tell him yes, provided it checked out for me. My friend was short of cash at the moment as he was starting a restaurant business, but he was happy to let me have the full collection. After I offered up a Finder's Fee payable in either cash or duplicate records, we were on the road.
The seller was a 40-year-old guy who explained that his father, Sid Woods, was an R&B, Soul and Jazz disc jockey in the 60s at Indianapolis, Indiana's only African American radio station—WGEE. The records made their way to Georgia when the family moved here and have been in storage for a long time. He wanted the records to go to another collector and not a record store that was just in it for the money. I asked the seller if his father knew Wes Montgomery, an Indianapolis resident at the same time. He said they were actually good friends.
I spent about an hour looking over the records and handed over the cash. What was great was that maybe half of the records were promos or DJ releases and looked barely played. The boxes of records barely fit in my SUV, but we got them all in and I headed home.
So what was there? Unlike Al, I don't have the sense of timing and drama to make this a three-part episode.   Some of the highlights (First Pressings) of the contents were as follows:
Sonny Clark, Cool Struttin'
Kenny Dorham, Jazz Prophets on ABC
Kenny Burrell, Blue Lights
Dizzy Reece Blues in Trinity and Star Bright
Milt Jackson w/ Monk
JR Monterose
Kenny Dorham, Whistle stop
Lee Morgan, Lee Way
Duke Pearson, Profile
Face to face, Willette
Bud Powell, Time Waits
Several Horace Silvers and Jimmy Smiths
John Jenkins, Cliff Jordan on New Jazz
Earthy, Kenny Burrell, and Three Trumpets, Art Farmer on Prestige 50th street
Thelonious with Sonny on Prestige 50th
Most of the Candids, including Booker Little Out Front
Dave Bailey on Epic
Dave Bailey, Walter Bishop and Rocky Boyd, all 3 on Jazz Time
5 Ten inchers including "Strings and Keys" Debut #1 and "Jazz at Massey Hall Volume 3"
35 Blue Note NY USA Monos with Ears including Grant Green Horace Silver, George Braith, Freddie Roach, Lou Donaldson, John Patton, Stanley Turrentine. I had most of these, but not always in Mono, and not in this condition.
Lots of Impulse, especially Coltrane
Lots of Cannonball and Monk on Riverside still in their original cellophane wrapper
Lots of Miles on Prestige
Lots of Miles on Columbia, white label promos
Jazz in the Space Age by George Russell with Bill Evans (I just like the cover)
Shirley Scott on Impulse, autographed by all the members on the band (kinda cool)
In addition to the above titles which I recognized, there were a few other items I researched and found were collectible that I will probably throw up on eBay:
George Wallington, Prestidigitator on East – West
Vito Price, Swinging the Loop on Argo
Paul Gonsalves, Cookin' on Argo
6 Mode Records: Harry Babisin, Paul Togawa, Stan Levey, Clora Bryant, Frank Rosolino, Conte Candoli
Some random Doo Wop and Blues records
So what is next? I promised Mrs. JC-A that I would get our money back and I am now in the process of culling the herd and getting ready for the Atlanta Record Show in a couple of weeks. I have about 300 non-keeper records that I have priced anywhere between $10-$75, plus another 500 that I will let go for $3-5. Hopefully I can entice some of the locals to avoid buying another copy of Live at the Fillmore or Lynard Skynard or Johnny Winter and visit my booth.   Or better yet, a rich Japanese collector or buyer from Disk-Union swings by and offers to take the whole lot for $10,000.
And I almost forgot. Did I mention that the seller's father knew Wes? Well I found in a random blank jacket a hand-written, vinyl coated metal acetate of Full House on Riverside (test pressing perhaps?). I am not sure what to do with this record, but I prefer to just think of Wes and Sid kicking back with a bottle of Cutty Sark scotch and a 6 pack of Pabst Blue Ribbon grooving to the sounds of those double octaves on a big fat Gibson guitar.