Guest Column: "Unholy Grails?"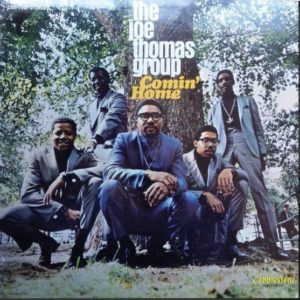 We have another guest column for you. I will let it speak for itself, although I will admit upfront I've never owned or listened to any of the records discussed here.
The Unholy Grail of Jazz Albums
By Lynn E. McCutcheon
najp@embarqmail.com
 Perhaps some of you have heard about the so-called "Holy Grail" list of jazz albums. It consists of some of the rarest and most desirable jazz albums ever made, with an emphasis on LPs made mostly in the 1950s and 60s. There are a large number of entries from the 1500 Blue Note series, a fair number from the 4000 series, and a sprinkling of entries from lesser known labels such as Transition, Signal, and Jazz West. On the rare occasions when these are offered for sale, they command prices that exceed the budget of many collectors.
At another extreme we have some very nice albums from the same time frame that seemingly no one is looking for – records that might fall under the heading of "Unholy Grail." To my knowledge, all of these are rare, but let me know if you think some of these are actually more common than I think they are. I hope to list and describe a few of these that have fallen into my hands in the last decade or so. A caution – I tend to like MJQ, Sonny Stitt, Ben Webster, Arnett Cobb, Lou Donaldson, Chet Baker, Art Pepper, and Buddy Collette, to name a few. If you don't care for any of these folks you may not like my list. Here are some of my favorites, listed and described in no particular order.
1) The Tom Ives Quintet – Cook Out – Full Fidelity 14141/42. Ives on piano; Dave Fisk, drums; Dave Bradley, guitar; John Abbot, bass; Charlie Tokarz, saxophone. The front cover says Hartwick College, February 20, 1965. The back cover has no liner notes, just a picture of the building that houses Full Fidelity Recordings, located in Cincinnati. The eight tracks include popular numbers "Take Five," and "Satin Doll," and one original track, "Reminiscence," attributed to the entire group. The music breaks no new ground, but the playing is solid and very listenable.
2) The Joe Thomas Group – Comin' Home – Cobblestone 7001. Thomas on flute; Jiggs Chase, organ; Robby Porter, baritone sax; Kenny Pollard, drums, Jimmy Wilkinson, guitar; Jimmy Ponder, guitar. There are at least three jazz musicians named Joe Thomas. This one plays flute beautifully. Ponder achieved a certain degree of fame in the 70s and 80s as a session leader on labels such as Muse, Cadet, and Milestone. There are nine tracks, including renditions of "More," "Soul Bossa Nova," and "Call Me." Thomas is listed as the composer of three tracks, including one called "Bet Your Sweet Bippy," a saying made famous from the TV show "Laugh In."  I'm not sure about the release date of this LP, but I'm guessing about 1968, because "Laugh In" first aired in 1967.  Sonny Stitt had two LPs on Cobblestone, but both were in a 9000 series, released in the early 70s.
3)  King Curtis – The Soul of King Curtis – Mount Vernon Music (MVM) 119. Curtis Ousley, sax; unknown bass; unknown piano; unknown drums; unknown guitar. King Curtis had a lengthy and productive career, during which he sometimes played jazz and sometimes fronted an instrumental rock/soul group. This one is clearly jazz. MVM is apparently a budget label. The liner notes are not very informative (deliberately so?). Who is playing with him on this recording? When and where was this music recorded? Was it reissued from another label, such as Prestige, or were all these tracks actually owned by MVM? I listened carefully to each of the ten tracks collected here. As far as I can tell, they were all recorded about the same time in a studio that used an echoing effect, and I believe there are no more than five players. I'm guessing from the style that the tracks were made sometime between 1957 and 1964.  "The Track" is very well done, a piece that could have been included on any of King Curtis' known jazz LPs, without lowering the quality of the LP one bit. "Perdito (sic)" is fine and so is "Big Town Blues," but there are other mysteries. Side 1 contains "Relief Trio Part One" and Side 2 contains Part 2 of this piece. Aurally it appears to be the same piano, bass and drums on both parts. Oddly though, the sax plays just a few notes at the end of part 1, and plays just one note at the very end of part 2. Why bother to add the sax at all unless there was a contract of some sort stating that Curtis had to be heard on all 10 tracks? Another oddity is the pretty ballad entitled "I'm So Very Weary."  Nicely done, an album highlight, but it is almost exactly note-for-note a song called "Offshore," a gorgeous doo-wop recorded as a vocal by the highly regarded Cardinals. Why the thinly disguised attempt at deception? Is it possible that other titles on this LP are phony ("Take Me," "Soul Blues," "Get Out")? I searched a discography of King Curtis – checked out everything on Prestige, Tru-sound, and the early Atco recordings. I found no matches. I did find that a version of "Perdido" appeared on Prestige 7223 (recorded on 9-9-1960). From Prestige album 7222 I found "Lazy Soul" and "Soul Meeting." Is it possible that either of these was renamed "Soul Blues?" Lending further credence to this hypothesis is the fact that both of these Prestige albums find our guy, King Curtis, playing as part of a quintet.
4) George Nardello – (same) – Roulette 42053.  Nardello – sax & flute on a few cuts, unknown organ, unknown drums, unknown bass on some tracks, unknown guitar, unknown trumpets on a few tracks. A picture of Nardello on the cover reveals a young Doc Severinson look-alike who hails from Philadelphia. I have a white label DJ copy of this recording. Can anyone confirm that this LP exists in stock copies? Most of the 10 tracks heard here are familiar tunes like "On Broadway" and the Beatles' "Eleanor Rigby," and "Yesterday." Someone is off key on "Somewhere," but renditions of "Wichita Lineman" and "By the Time I Get to Phoenix" are quite nice. I also like the way "Misty" begins as a slow, quiet, plaintive wail, then abruptly transitions into an uptempo romp. It is not one of the 50 greatest jazz LPs of all time, but it is well done, and it belongs in your collection. Since it isn't listed in either of my two price guides you might be able to get one cheap, providing you ever see a copy.
5) Tenors Wild and Mild – (No Name) – Pontiac 523.  Unknown tenor sax, unknown  piano, unknown  drums, unknown trumpet, unknown bass, unknown trombone on one track? This is a 10-incher. The back cover says copyright 1951, Remington Records, with a New York address. There are no liner notes, but advertisements for other records on Remington and Pontiac suggest that these labels dealt mostly with classical and pop records. My guess is that the eight tracks on this album (5 are wild, 3 are mild) were leased from another record company, but what company, who are the players, and when were the tracks recorded?  I think the tenor sax player is the same throughout (Don Byas or Illinois Jacquet?). The slight echo effect appears to be a constant, so maybe this is just one group. Piano, bass and drums are probably present on each track, though it is difficult to hear the bass player on the beautiful rendition of "September Song" and the frenetic rendition of "Leaping on Lenox." A trumpet player appears on "September Song" as well as the frantic "Ready for Action," the bluesy piece entitled "Big Trees," and the relatively tame "After Hours Bounce."  "Ravin' at the Haven" features a bridge on which the sax is heard unaccompanied by anything except rhythmic handclapping. "But Beautiful" is exactly that, a tune sparsely arranged for just sax, piano and bass. Musically, this is a great jazz album; the playing is spectacular, filled with innovative twists and turns, packed with energy on the uptempo numbers, with warm, sensual playing on the ballads. It would not surprise me in the least to learn that the tenor sax player and most of the sidemen were famous musicians who had lengthy and productive careers.
6) Brazilia' 67 – Mas Que Nada & Guantanamera –Wyncote 9177.  Unknown personnel, but includes piano, bass, percussion blocks(??), and usually a guitar or flute. Wyncote was a budget label subsidiary of Cameo-Parkway. Like many budget labels, Wyncote typically offered little in the way of liner notes. We are informed only that Brazilia' 67 is a new group, destined to become "the absolute ultimate on the bossa nova scene." Who were these folks, local musicians from the Philadelphia area? A group from Rio that sent an audition tape to Cameo-Parkway? Apparently so little attention was paid to this LP by the people at Cameo-Parkway that no one noticed that the group was named "Brazilia' 66" in one place on the cover and "Brazilia' 67" in two others. Gaffes aside, the music is quite nice – if you like the South American-flavored jazz that became very popular here in the mid-sixties this ten-track LP will be a welcome addition to your collection. All the tracks are listenable, but "Mas Que Nada" and "Guantanamera" are my two favorites. The flute plays a prominent role in these, while, quite predictably, the guitar is front-and-center on "Guitar Nova."
7) Westchester Workshop – Jazz From The Westchester Workshop – Unique 103. Joe Shepley on trumpet; Vinnie Riccitelli,  alto sax; Carmen Leggio, tenor sax; Eddie Bert, trombone; Gene Allen, baritone sax; Dolph Castellano, piano; Eddy Tone, bass; Joe Venuto, drums. My guess is this album was made sometime between 1956 and 1959. Does anyone know? The liner notes imply that this was the first in a series of jazz albums to be released under the Unique banner. I think the label actually released very few, possibly because this one sold poorly. Unique was in New York City, and it seems clear from the liner notes that this group lived or worked out of suburban Westchester County. All but one ("Love For Sale") of the eight tunes etched in vinyl here were penned and arranged by Riccitelli, a Julliard graduate who wrote interesting music. "Key Chain" is a little too "big Band-ish" to suit me, but I like "Minor Incident," "Fruity Tutti," and "No Coast At All" because almost everyone gets a brief solo. "Bert Flight" was written for Eddie Bert, who was well known at that time. "Carmenooch" gave Carmen Leggio a chance to show off his skills, and "The Beak" allowed Joe Shepley to shine. In fact, Shepley played so well that I am wondering why he didn't become better known. Does anyone remember him? Did Shepley later surface as a member of Duke Pearson's big band? Is the drummer, Joe Venuto, actually a thinly disguised pseudonym for Joe Venuti, the jazz violinist who became well-known in the seventies?  Mysteries aside, I think this one is fairly rare, so grab a copy if you can find one at a reasonable price.
8)  Boots Randolph – (same) – Guest Star 1455. There are five tracks here by Boots Randolph, a well-known musician who had several rock and roll instrumental hits. The other five are by the George Curry group.  Curry plays sax; unknown piano; unknown bass; unknown percussion; and unknown trumpet on 3 tracks. For me, the real curiosity here is George Curry. Who is this guy? Why can't I find his name linked to any other jazz outlet? Is it possible that he is actually Boots using a pseudonym for some unknown reason? Could it be that the sidemen are the same for both groups, with the addition of the trumpeter for three of Curry's tracks? Curry's sax playing is very good and his sidemen are okay too. If there is a theme to his five cuts, it is that he takes familiar melodies, dresses them up a bit, then he calls them something else. "Runaway Sax" is Presley's "Love Me Tender," played slowly at first, then much faster, with many extra notes thrown in, hence the runaway sax. "Sax On Wax" is a play on the "Greensleeves" melody, and "The Jolly Roger" sounds like a pirated version of "Tonight." My favorite is an attractive ballad entitled "Mr. Glad Man." It may be an original, or, it may simply be that I can't recognize the tune for what it really is. I have seen a few copies of this album in thrift stores. I strongly recommend it.
9) Jack Brokensha Quartet/Lenore Paxton Trio – Steel Blue — Columbia Special Products 487.  (quartet) Brokensha, vibes; unknown piano; unknown bass; unknown drums. (trio) Paxton, piano, Fred Housey, bass; Bill Steen, drums. This album was recorded in January of 1967 following the presentation of a US Steel model automobile to the automotive industry in Detroit. The two jazz groups featured here played at the presentation and were invited to record in order to further promote the model auto, called "Innovari," and United States Steel ("Where the big idea is innovation"). If the name "Jack Brokensha" sounds familiar maybe it's because you have a few records by the Australian Jazz Quartet. When that earlier aggregation disbanded, Brokensha, then living in the Detroit/Windsor area, formed the present group. On this album the drummer is used sparingly, creating a rather light atmosphere. The title song and "A Room Without Windows" are decent. I have always liked the melodies of "Our Love Affair" and "A Taste Of Honey," but Jack's quartet gave me another reason to like both. The arrangements and playing are nothing short of gorgeous. As for the attractive Miss Paxton, her playing is a match for her picture. "Girl Talk" and "It Was A Very Good Year" find her nimbly exploring the upper reaches of the keyboard in a most fetching fashion. Her rendition of "Michelle" is stunning. She took this mundane Beatles tune and spun it into silken cloth that the Beatles would scarcely recognize. I highly recommend this album, which apparently wasn't good enough to make either of my two price guides.
10) Canton Jazz Quartet – Jazz, From Canton? – Capitol Transcription 63 SL 10. Roger Kiraly, alto sax; Herb Wise, piano; Charles Reiman, bass; Bruce Shelley, drums. The front cover pictures four young guys standing in front of the Pro Football Hall of Fame. The Hall opened in September of 1963, so a reasonable guess is that this album was released in 1964 or later. Does anyone know? The liner notes on the back read like something written by the Canton Chamber of Commerce. "It has a wonderful park system, a new city hall, the sparkling new Professional Hall of Fame," etc. The quartet itself receives short shrift. Five of the nine tunes were written by Kiraly, including "Hall of Fame," which explains the picture on the front. The other four are old standards, nicely done. You can almost hear Kiraly's sax weeping on "Willow Weep For Me," and I like both the piano and sax solos on "Cry Me a River."  Quite by coincidence I was in Canton, Ohio about 2 weeks before I acquired this fine LP, and had a conversation about jazz with a major collector/dealer while I was there. If he knew about this album he didn't mention it. No wonder this one is not listed in the price guides.
Note: I do not wish to sell any of these. All but two of them were reviewed in a book I wrote called "Jazz on the Cheap," a book that reviews about 360 jazz albums, most of which are not terribly expensive if you can find them. Contact me by e-mail if you have questions or comments.