One Man's Junk; Another Man's Treasure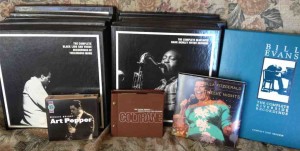 You're really not going to believe what happened to me yesterday. I'm up at my house in The Berkshires and we were hosting some friends for brunch. I did some cleanup in the morning and decided at the last-minute that I would have to go to the town dump to get rid of some garbage before I guests arrived. So I piled some garbage into the car, loaded my dog Marty onto the front seat and headed for the dump. In our local town here, there's a small shack at the dump where people get rid of stuff they don't want so that others who may be interested can just take it, free. They call it a swap shop and, occasionally, I've found some odds and ends in there, a couple of records, some decent speakers, nothing special. Yesterday, because I was in a bit of a hurry, I wasn't even going to check, but it only takes a minute and it's hard to resist. You never know what's going to be there.
So I go in and look down and right in front of me there are four boxes filled with CDs. I could see right off the bat that one of them was an Impulse, so I was thinking, "jazz?" Then I looked to the right. The sight was unmistakable, the black boxes, the classic simple typeface, the photo of Hank Mobley holding his tenor. There was a pile of Mosaic boxed sets. Then, another glance to the right. A crate with several more Mosaics, plus, clearly, the teal boxed set of the Bill Evans Complete Riverside Recordings. All just sitting there on the floor.
I sought out the woman who keeps the place neat and is sort of a manager. I said, "Can I take these?" "Of course," she replied. "That's what they're here for." Then she added, "You know you're pretty lucky. Somebody dropped those off about five minutes before you got here."
I felt the familiar rush of adrenaline surging through my body. These were all CDs, no vinyl, but still, Mosaic boxed sets and who knows what else. I quickly grabbed the Mosaics and the Evans set and loaded them into the car, and told Marty the dog to relax, we may be here for a while. Then I went back to the shack, got down on the floor and started wading through hundreds of CDs. There were more boxed sets: Ella in Hollywood, The Mosaic Select Art Pepper, the Complete Coltrane on Impulse. Plus many, many more CDs. I thought it impolite to just take them all home, so I went through the whole batch, which wasn't so easy since I thought I was just going to the dump and didn't even bother taking my glasses.
All in all, there were 11 Mosaic boxes, the Evans, and probably 75-100 more CDs. Free. They are sitting in my office here in the country as I write this. I'm hoping to go through them later to see what I have and I'll do another post, later today or tomorrow morning.
Oh, yes. And I'm heading back to the dump as soon as they open. Maybe the same guy decided to get rid of his vinyl today.