Seeing Live Jazz: Bird With Strings (Really)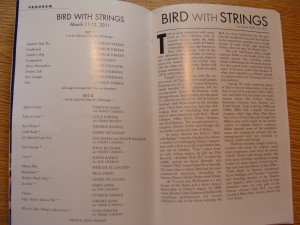 Do you see a lot of live jazz anymore? I don't. When people ask why, I kind of laugh it off and tell them that just about everyone I'd want to see is dead. Which, unfortunately, is pretty true, with a very few exceptions. I do still try to see Sonny Rollins whenever possible and perhaps a couple of others, but I no longer go to the Vanguard regularly or any of the other clubs in New York. Perhaps this will change when Mrs. JC and I make our long-awaited move to Manhattan, which is in the works (we hope). In any case, I bring this up because I did recently trek to Rose Hall in New York for the first time to attend a Jazz at Lincoln Center concert. The concert was billed as "Bird With Strings," featuring Charles McPherson accompanied by a string section and playing the music from the original Charlie Parker Bird With Strings album. I like McPherson, a love Bird With Strings and I figured this would be a good opportunity to see some live jazz and check out the location. So how was it?
Overall, not bad. The concert wasn't exactly as I expected. The first set there were no strings and only a little bit of McPherson. It was mostly a sextet under the direction of Vincent Gardner, a trombone player affiliated with the Jazz at Lincoln Center Orchestra. They played a set of bop tunes associated with Bird, although the sensibility was more post-bop than bop, which was fine by me. The highlight for me was the alto player Wess Anderson. McPherson joined for the end of the first set and he was in okay form, nothing great.
The second set brought out the string section, with a lot more McPherson and also some more Anderson. This set was definitely more interesting to me. What was most compelling was watching the alto players playing with the string section and how much they enjoyed the interaction – then thinking about Bird, back in the early 1950s, and how much he would have valued this kind of background as well: Where he was the featured soloist in a far more highbrow type of setting and all of the other musicians, classically trained, were there to support him. It was actually enlightening from that perspective, and the music was nice as well.
As for the venue . . . can't really complain. The acoustics were fine, everyone could see from all seats. The prices were quite high – I paid more than $80 a seat and sat upstairs – and the hall was small enough as halls go, so it's definitely a nice setting for jazz, although there was nothing in either the music or venue that made me feel like, "Oh yeah, I have to come back here."  Having said that, I'll have no problem going back if there's another concert that strikes my fancy.