Seeking Recommendations: Original Jazz CDs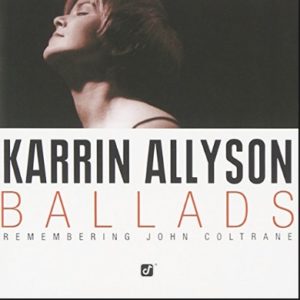 The other night I was listening to Karrin Allyson, Ballads: Remembering John Coltrane. This was a 2002 Concord Jazz release that celebrated the great John Coltrane Ballads album on Impulse. I love the Allyson version, particularly since I really had never heard the lyrics to a couple of these songs, including Say It (Over and Over Again) and Too Young to Go Steady. Allyson uses three horn players on this record, Bob Berg, Steve Wilson and James Carter, and they each approach the Coltrane material in a very personal way. Her vocal interpretations are absolutely terrific. This is a great album and I recommend it highly. Which brings me to the point of this post. I've always been focused on vinyl and I never really took to CDs. I managed to buy a lot of CDs in the day, because they were convenient and I could put six into one of those Sony multi-players or into my car stereo and I wouldn't have to get up off the sofa or fiddle around with the radio dial in the car. But whenever I wanted to really listen to music, it would always be vinyl.
It struck me, in listening to the Karrin Allyson Ballads record, that I listen to very few jazz records that were issued in what I would now consider to be the CD era, starting in the late 1980s when CDs first surpassed vinyl in total sales, and extending into the 2000s when CDs starting giving way to other digital formats. As I said, I do have a lot of CDs and I have a lot of music that was reissued on CD for the first time, such as sets from Ella Fitzgerald, Charlie Parker and other artists whose recording careers preceded the CD era. I also have many of the Mosaic sets on CD, although I much prefer the ones I have on vinyl.
But as for original music issued in the CD era that was not issued on vinyl, or, like the Allyson record was first issued on CD and later issued on vinyl, I am curious about some of the music I may be missing out on. There must be at least some great jazz from that era that was never issued on vinyl, and I'm probably just not that aware of it? Or am I being too optimistic? Bottom line is, I'm asking for recommendations on some of the great jazz of the 1990s and 2000s that I may have missed out on — and other readers may have missed as well — because of an aversion to the CD format (not to mention a greater interest in the music of the earlier eras). So, fellow jazz collectors, what do you recommend and why? I'm looking primarily for original music of the era, but if some of you want to mention some of your favorite reissues I'm sure no one here will object.
Oh, just for the record (pun intended), I do own the Karrin Allyson record on vinyl, and I much prefer listening to it in the vinyl format. Would you expect anything else?